Diabetes Mellitus and Its Complications: Molecular Mechanisms, Epidemiology, and Clinical Medicine, Volume 1084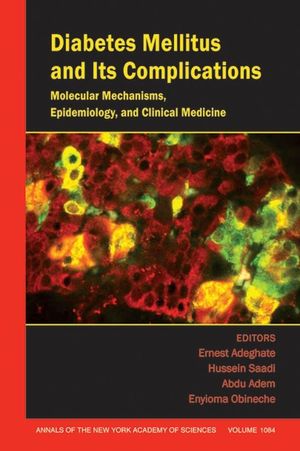 Diabetes Mellitus and Its Complications: Molecular Mechanisms, Epidemiology, and Clinical Medicine, Volume 1084
ISBN: 978-1-573-31635-4
Nov 2006, Wiley-Blackwell
548 pages
Description
Diabetes mellitus is a major global health problem. According to the most recent projections, the worldwide prevalence of diabetes mellitus is expected to reach 220 million in the year 2010 and 300 million in 2025 compared to the current prevalence of around 160 million.


This volume focuses on recent advances in the area of diabetes mellitus and its complications, from basic research at the molecular level to clinical medicine, spanning several areas including epidemiology, diagnosis, complications, prevention, treatment, beta cell function and dysfunction, metabolic syndrome, glucose and lipid metabolism and drug targets.


The international conference of which this is the proceedings provided a forum for the exchange of ideas and the dissemination of current knowledge about the full range of issues concerning type I and type II diabetes mellitus.


NOTE: Annals volumes are available for sale as individual books or as a journal. For information on institutional journal subscriptions, please visit www.blackwellpublishing.com/nyas.

ACADEMY MEMBERS: Please contact the New York Academy of Sciences directly to place your order (www.nyas.org). Members of the New York Academy of Science receive full-text access to the Annals online and discounts on print volumes. Please visit http://www.nyas.org/MemberCenter/Join.aspx for more information about becoming a member
Preface.
Part I: Epidemiology of Diabetes Mellitus:.
1. Primary Prevention of Type 2 Diabetes: Current Status: Jaakko Tuomilehto.
2. An Update on the Aetiology and Epidemiology of Diabetes Mellitus: Ernest Adeghate, Peter Schattner and Earl Dunn.
Part II: Metabolic Syndrome:.
3. Inflammation in Metabolic Syndrome and Type 2 Diabetes: Impact of Dietary Glucose: Kerstin Kempf, Bettina Rose, Christian Herder, Ursula Kleophas, Stephan Martin, Hubert Kolb.
Part III: New Agent for the Treatment of Diabetes Mellitus:.
4. Insulin Analogues and Modern Insulin Therapy: Philip Home.
Part IV: Immunology of Diabetes, Pancreas and Pancreas and Transplantation:.
5. Functional Capacity of Macrophages Determine the Induction of Type-1 Diabetes: EPK Mensah-Brown, A. Shahin, Khatija Parekh, A. Al Hakim, M. Al Shamisi, DK. Hsu, M.L. Lukic.
6. Effect of Insulin on Acetylcholine–evoked Amylase Release and Calcium Mobilization in Streptozotocin-Induced Diabetic Rat Pancreatic Acinar Cells: R. Patel, J.A. Pariente, M.A. Martinez, G.M. Salido and J. Singh.
7. Mechanism of Exocrine Pancreatic Insufficiency in Streptozotocin-Induced Type 1 Diabetes Mellitus: R. Patel, A. Shervington, J.A. Pariente, MA. Martinez-Burgos, GM. Salido, E. Adeghate and J. Singh.
Part V: Gestational Diabetes:.
8. Beneficial Effect of Supplemental Lipoic Acid on Diabetes-Induced Pregnancy Loss in the Mouse: Rengasamy Padmanabhan, Shafiullah Mohamed, and Sarabjit Singh.
9. Audit of Pregnancies Complicated by DM from One Centre- 5 Years Apart with Selective Versus Universal Screening: M. Ezimokhai, Annie Joseph, P. Bradley-Watson.
Part VI: Cardiovascular Complications of Diabetes:.
10. Blockade of Renin-Angiotensin System Attenuates Sarcolemma and Sarcoplasmic Reticulum Remodeling in Chronic Diabetes: Xueliang Liu, Hideaki Suzuki, Rajat Sethi, Paramjit S. Tappia, Nobuakira Takeda and Naranjan S. Dhalla.
11. Effects of Brain Natriuretic Peptide on Contraction and Intracellular Ca2+ in Ventricular Myocytes from Streptozotocin-Induced Diabetic Rat: Frank C Howarth, Noura Al Shamsi, Maryam Al Qaydi, Mariam Al Mazrouei, Anwar Qureshi, S.I. Chandranath, Elsadig Kazzam, Abdu Adem.
12. Differences in Expression of Cardiovascular Risk Factors among Type 2 Diabetes Mellitus (T2DM) Patients of Different Age: Christos Kalofoutis, Christina Piperi, Aikaterini Zisaki, Jaipaul Singh, Robert W. Lea, David Phoenix, Antonis Alaveras, Anastasios Kalofoutis.
13. Effect of Streptozotocin-Induced Type 1 Diabetes Mellitus on Contraction, Calcium Transient and Cation Contents in the Isolated Rat Heart: J. Singh, A. Chonkar, N. Bracken, E. Adeghate, Z. Latt and M. Hussain.
14. Type II Diabetes Mellitus and Cardiovascular Risk factors: Current Therapeutic Approaches: Christos Kalofoutis, Christina Piperi, Anastasios Kalofoutis, Fred Harris, David Phoenix and Jaipaul Singh.
Part VII: Diabetic Nephropathy:.
15. Alterations in Atrial Natriuretic Peptide and its Receptor Levels in Streptozotocin- Induced Long-Term Diabetic Rats: Enyioma Obineche, Irwin Chandranath, Ernest Adeghate, Sheela Benedict, Mohamed Fahim, and Abdu Adem.
Part VIII: Diabetic Neuropathy:.
16. Diabetic Neuropathy Differs in Type 1 and Type 2 Diabetes: Anders A.F. Sima and Hideki Kamiya.
17. Treatment of Diabetic Polyneuropathy - Update 2006: Dan Ziegler.
18. The Effect of Streptozotocin-Induced Diabetes on the Rat Seminal Vesicle: A Possible Pathophysiological Basis for Disorders of Ejaculation: JFB Morrison, S. Dhanasekaran, Rajan Sheen, CM Frampton and Eric Mensah-Brown.
19. Changes of the Different Neuropeptide-Containing Nerve Fibres and Immunocells in the Diabetic Rat's Alimentary Tract: Erzsebet Fehér.
20. Pattern of Distribution of Calcitonin-Gene Related Peptide in the Spinal Ganglion of Three Animal Models of Diabetes Mellitus: Ernest Adeghate, Hameed Rashed, Satyan Rajbandari and Jaipaul Singh.
Part IX: Diabetes Education/Screening/Community Health:.
21. An Audit of Diabetes Clinic at Tawam Hospital, United Arab Emirates 2004-2005: B. Afandi, S. Ahmad, H. Saadi, S. Elkhumaidi, MA Karkoukli, B. Kelly, H. Assaf, D. Matear.
22. A Controlled Study of Psychosocial Factors in Young People with Diabetes in the United Arab Emirates: Valsamma Eapen, AbdelAzim Mabrouk, Sufian Sabri, Salem Bin-Othman.
23. Diabetic Patients: Psychological Aspects: Fatemeh Adili and Bagher Larijani.
24. Effect of Psychological Intervention on Exercise Adherence in Type 2 Diabetic Subjects: Robert Martinus, Rod Corban, Henning Wackerhage, Steve Atkins and Jaipaul Singh.
Part X: Nutrition:.
25. The Effect of a Fat-Enriched Diet on the Pattern of Distribution of Pancreatic Islet Cells in the C57BL/6J Mice: Ernest Adeghate, Frank Christopher Howarth, Hameed Rashed, Tariq Saeed and Amstrong Gbewonyo.
26. Effect of Vitamin C on Liver and Kidney Functions in Normal and Diabetic Rats: Mariam Al Shamsi, Amr Amin, and Ernest Adeghate.
27. The Protective Effect of Tribulus Terrestris in Diabetes: Amr Amin, Mohamed Lotfy, Mohamed Shafiullah, Ernest Adeghate.
28. Effect of High Calorie Diet on the Prevalence of Diabetes Mellitus in the One-Humped Camel (Camelus dromedaries): M. Al Haj Ali, Fred Nyberg, S. I. Chandranath, A.S. Ponery, A. Adem, E. Adeghate.
29. Effect of Vitamin E on Biochemical Parameters of Normal and Diabetic Rats: Mariam Al Shamsi, Amr Amin and Ernest Adeghate.
Part XI: Neuromuscular System and Diabetes:.
30. Contraction and Cation Contents of Skeletal Soleus and EDL Muscles in Age-Matched Control and Diabetic Rats: Apurva Chonkar, Richard Hopkin, Ernest Adeghate and Jaipaul Singh.
Part XII: Molecular Genetics of Diabetes:.
31. Calpains and Their Multiple Roles in Diabetes Mellitus: Frederick Harris, Suman Biswas, Jaipaul Singh, Sarah Dennison and David A. Phoenix.
32. Lipid Peroxidation and Serum Antioxidant Enzymes in Patients with Non-Insulin Dependent Diabetes mellitus (NIDDM). Feroza N Ahmed, Farzana N. Naqvi and Fakhra Shafiq.
Part XIII: Miscellaneous:.
33. Effects of Streptozotocin-Induced Type 1 Diabetes Mellitus on Total Protein Concentrations and Cation Contents in the Isolated Pancreas, Parotid, Submandibular and Lacrimal Glands of Rats: Navin R. Changrani, Apurva Chonka, Ernest Adeghate and Jaipaul Singh.
34. Mucormycosis Mimics Sinusitis in a Diabetic Adult: György Szalai, Veronika Fellegi, Zsuzsana Szabó, Lajos Csokonai Vitéz