Diabetes and Its Management, 6th Edition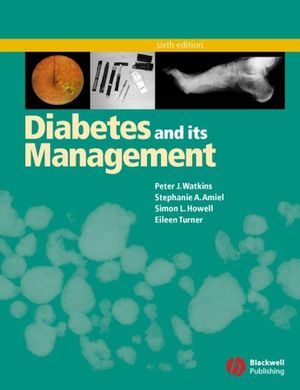 Diabetes and Its Management, 6th Edition
ISBN: 978-0-470-76000-0 April 2008 Wiley-Blackwell 240 Pages
Description
Highly Commended in the 2004 BMA Medical Book Competition (Endocrinology)
Judges' summary:
"Beautifully and clearly written to appeal to all levels of healthcare professional knowledge. A wealth of practical experience is freely donated to the reader in a friendly and accessible way. Each section is easily found and any member of the team could care for a patient with that particular problem to a high standard with this book in their hand. I would unhesitatingly recommend to all diabetes doctors – both senior and junior, and every diabetes unit should have a copy. This new edition is excellent and should be considered for an award."

Diabetes and its Management, Sixth Edition, continues to provide a practical clinical guide to the management of patients with diabetes. The author team has been expanded and now also includes a Nurse Practitioner specialising in diabetes to provide the nursing perspective. It is a concise manual that distils the essential recent developments into practical advice.
Table of contents
Preface to the sixth edition.
Preface to the first edition.
Acknowledgements.
Section 1: Basic Principles of Diabetes and its Biochemistry.
1. Diagnosis and classification.
2. Epidemiology of diabetes.
3. Synthesis, secretion and actions of insulin.
4. Metabolic changes in diabetes: a summary.
5. Aetiology and genetics.
Section 2: Clinical Presentation and Treatment.
6. Clinical features of diabetes.
7. Management of Type 2 diabetes.
8. Management of Type 1 diabetes mellitus.
9. Hypoglycaemia.
10. Diabetic hyperglycaemic emergencies.
11. Management of diabetes during surgery and other illnesses.
Section 3: Special Situations.
12. Pregnancy and diabetes.
13. Diabetes in children.
Section 4: Diabetic Complications.
14. An overview of microvascular complications.
15. Diabetes and the kidney.
16. Diabetic eye disease.
17. Diabetic neuropathies.
18. The diabetic foot.
19. Cardiovascular disease, hypertension and lipids.
20. Hypertension.
Section 5: Diabetic Care.
21. Living with diabetes.
22. Organization of care.
Appendices.
Index
Reviews
'Its continued success undoubtedly rests on the authors' ability to pack so much information and opinion on diabetes into a short textbook format, and yet to make the subject approachable and the book so readable.'
John Anderson Consultant Physician, Homerton Hospital in Barts Journal in the fifth edition

'It is full of relevant information for the practising clincian, but also includes a useful theoretical background to diabetes... Overall, it is a very practical and stimulating book.'

Graham Leese Consultant Diabetologist, Ninewalls Hospital and Medical School in Hospital Update on the fifth edition
Features


Aimed at all healthcare professionals who care for patients with diabetes

Valuable for those studying for the MRCP

A compact, but complete, practical manual

Divided into sections on pathogenesis, clinical management, diabetic complications and all aspects of diabetic care

Updated and rewritten to include all the recent advances in diabetes