Diabetes for Dummies, 2nd UK Edition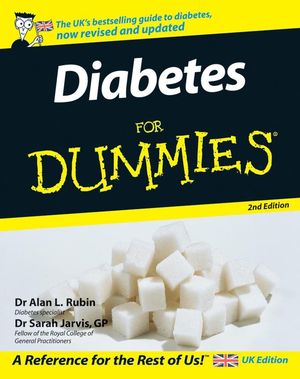 Diabetes for Dummies, 2nd UK Edition
ISBN: 978-1-119-99240-0 December 2010 396 Pages
Description
Bestseller! Features new information on metabolic syndrome
Take control of your diabetes and live well
Don't just survive – thrive! That's the message of this state-of-the-art guide to diabetes management, now updated to include the latest advances in therapy for diabetes and its complications. From causes, symptoms, and side effects to treatments and diet, this book delivers sound advice on staying fit and feeling great.
Understand and manage diabetes
Choose a diet plan that suits you
Prevent long-term complications
Care for someone who has diabetes
Manage high blood pressure, cholesterol, and kidney problems
". . . diabetic patients . . . should arm themselves with sugar cubes, glucose tablets, boiled sweets . . . but also with a copy of Diabetes For Dummies . . ."
—Dr Thomas Stuttaford, The Times
". . . combines clarity with depth and detail . . ."
—Yoga and Health magazine
Introduction.
Part I: Dealing with the Onset of Diabetes.
Chapter 1: Dealing with Diabetes.
Chapter 2: It's the Glucose.
Chapter 3: What Type of Diabetes Do You Have?
Part II: How Diabetes Affects Your Body.
Chapter 4: Battling Short-Term Complications.
Chapter 5: Preventing Long-Term Complications.
Chapter 6: Diabetes, Sexual Function, and Pregnancy.
Part III: Managing Diabetes: The 'Thriving with Diabetes' Lifestyle Plan.
Chapter 7: Glucose Monitoring and Other Tests.
Chapter 8: Diabetes Diet Plan.
Chapter 9: Keeping It Moving: Exercise Plan.
Chapter 10: Medication: What You Should Know.
Chapter 11: Diabetes Is Your Show.
Chapter 12: Putting Your Knowledge to Work.
Part IV: Special Considerations for Living with Diabetes.
Chapter 13: Your Child Has Diabetes.
Chapter 14: Diabetes and the Elderly.
Chapter 15: Driving and Occupational Problems.
Chapter 16: What's New in Diabetes Care.
Chapter 17: What Doesn't Work When You're Treating Diabetes.
Part V: The Part of Tens.
Chapter 18: Ten Ways to Prevent or Reverse the Effects of Diabetes.
Chapter 19: Ten Myths about Diabetes That You Can Forget.
Chapter 20: Ten Ways to Get Others to Help You.
Part VI: Appendixes.
Appendix A: Mini-Cookbook.
Appendix B: Exchange Lists.
Appendix C: Dr WW Web.
Index.
"This comprehensive guide explains the causes, symptoms and effects of diabetes as well as looking at all aspects of treatments and diets." (
Sunday Times
, 9th March 2008)
"Informative guide in the 'Dummies' format" (SWEET, October 2008)