Diabetes in Old Age, 2nd Edition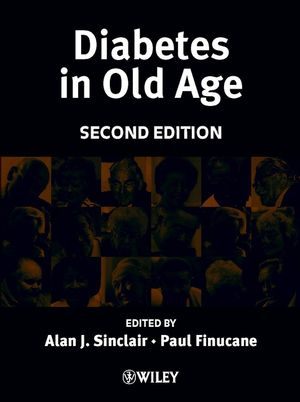 Diabetes in Old Age, 2nd Edition
ISBN: 978-0-470-85386-3 November 2000 288 Pages
Description
Diabetes Mellitus is particularly prevalent among ageing populations; sixty percent of those who are diagnosed with the condition are aged over 60 years. Care for elderly people with diabetes has improved in recent years with new management strategies greatly enhancing patient care. This second edition of Diabetes in Old Age provides a comprehensive, practical source for those working with these patients, taking into account their special needs and requirements, and recommending ways to minimise the risk of complications and the resulting disability.

Designed specifically to cater for the unique needs of elderly people with diabetes
* Offers practical advice to help health care workers cope with this large group of patients
* Is the definitive book on the subject
Table of contents
Contributors.
Foreword.
Preface.
Acknowledgments.
EPIDEMIOLOGY, PATHOPHYSIOLOGY AND DIAGNOSIS.
Diabetes Mellitus and Impaired Glucose Regulation in Old Age: The Scale of the Problem (P. Finucane & P. Popplewell).
Pathophysiology of Diabetes in the Elderly (G. Meneilly).
Establishing the Diagnosis (P. Ho & J. Turtle).
Screening and Treatment Strategies for Diabetes Complications in the Elderly (L. Sorenson & D. Yue).
COMPLICATIONS.
Metabolic Decompensation (S. Croxson).
The Diabetic Foot (M. Young & A. Boulton).
Erectile Dysfunction (A.Vinik & D. Richardson).
Mortality and its Predictors in Type 2 Diabetes (M. Muggeo, et al.).
Visual Loss (A. Butcher & P. Dodson).
Hypoglycaemia (V. McAulay & B. Frier).
TREATMENT AND CARE ISSUES.
Issues in the Initial Managemenmt of Type 2 Diabetes (A. Sinclair).
Insulin Therapy (T. Hendra).
Managing Surgery in the Elderly Diabetic Patient (G. Gill & S. Benbow).
Metabolic Risk Factors and their Treatment (H. Kamel & J. Morley).
Drug Therapy: Current and Emerging Agents (J. Chehade & A. Mooradian).
Rehabilitation (P. Finucane & M. Crotty).
Approaching Primary Care (K. Reenders).
Diabetes in Care Homes (A. Sinclair & R. Gadsby).
Modern Perspectives and Recent Advances (C. Turnbull & A. Sinclair).
Index.
Reviews
"This is certainly the best book of its kind available and a welcome and timely update. ...anyone treating elderly people with diabetes would certainly befit from access to a copy." (Practical Diabetes International, November/December 2001)