Diabetic Foot Care: Case Studies in Clinical Management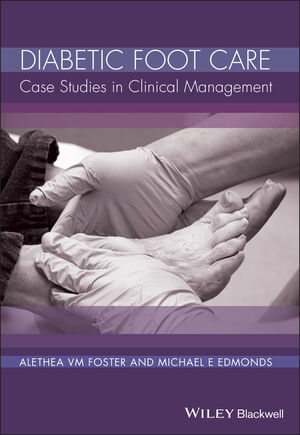 Diabetic Foot Care: Case Studies in Clinical Management
ISBN: 978-1-119-95712-6
Jul 2011
280 pages
Description
Diabetic Foot Care: Case Studies in Clinical Management uses a 100% illustrated patient case study format to demonstrate the multidisciplinary care and clinical management of patients with feet and lower limb problems as a result of diabetes. Every case has colour illustrations highlighting both the initial presentation of the foot, right through to treatment and long term follow-up care. Of particular focus are the management problems, barriers to effective care, preventable mistakes, unnecessary delays in presentations, challenging situations, conflicts, dilemmas and solutions that podiatrists and diabetic specialists face.

Sections in the book include: Neuropathic and neuroischaemic foot, neuropathic ulcers, ischaemic ulcers, infections, gangrene, traumatic injuries, Charcot's osteoarthropathy, dermatological problems associated with diabetes, painful neuropathy, diabetic foot emergencies, angiology and foot surgery/amputation. With key points and summaries at the beginning and end of each section, this book is clear and easy to navigate, making it an ideal tool for diabetes specialists, diabetes nurses and podiatrists.
Acknowledgements.
Introduction.
1 Neuropathic Case Studies.
1.1 Introduction.
1.2 Differing presentations of infection and complications of infection.
1.3 Co-morbidities in addition to diabetes and neuropathy.
1.4 Deformity, ulceration and infection treated by surgical debridement and reconstruction.
1.5 Patients with neuropathic feet in whom psychological factors have impacted on their management.
1.6 Long term patients followed in the Diabetic Foot Clinic with neuropathic foot problems.
2 Ischaemic Case Studies.
2.1 Introduction.
2.2 Infection and its presentations.
2.3 Patients with severe co-morbidities.
2.4 Revascularisation.
2.5 Wound care.
2.6 Emboli.
2.7 Complications.
2.8 Pain in the neuroischaemic foot.
2.9 Conservative care.
3 Charcot Case Studies.
3.1 Introduction.
3.2 Early diagnosis.
3.3 Different presentations.
3.4 Surgery.
3.5 Conservative care.
4 Renal Case Studies.
4.1 Introduction.
4.2 Patients with normal serum creatinine who develop low creatinine clearance with infection.
4.3 Low creatinine clearance and complications.
4.4 Continuous ambulatory peritoneal dialysis (CAPD) and complications.
4.5 Haemodialysis and complications.
4.6 Renal transplant and complications.
4.7 Revascularisation in renal patients.
Index.
"With key points and summaries at the beginning and end of each section, this book is clear and easy to navigate, making it an ideal tool for diabetes specialists, diabetes nurses and podiatrists."  (Mpilibrary.blogspot.co.uk, 12 September 2014)
""Using a case study format, this volume for diabetes specialists, nurses and podiatrists illustrates the multidisciplinary care and clinical management of patients with foot and lower limb problems that are a result of diabetes."" (
Booknews, 1 April 2011
)
""...this book should be available to everyone involved in the care of people with diabetes and foot disease, as a stimulus to reflecting on one's own practice, learning from experts and (as the authors state) improving the outcome of diabetic foot disease."" (Practical Diabetes International, 2011)