Dicho y hecho: Beginning Spanish, 10th Edition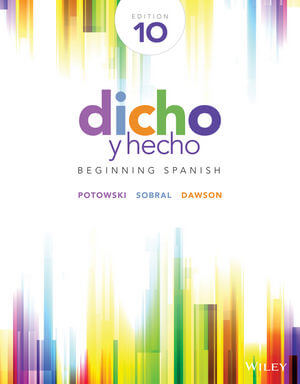 Dicho y hecho: Beginning Spanish, 10th Edition
Download Product Flyer
Download Product Flyer
Download Product Flyer is to download PDF in new tab. This is a dummy description. Download Product Flyer is to download PDF in new tab. This is a dummy description. Download Product Flyer is to download PDF in new tab. This is a dummy description. Download Product Flyer is to download PDF in new tab. This is a dummy description.
Description
The Dicho y hecho that became one of the most widely used Spanish textbooks in the 20th century has evolved over the last two editions into an innovative language program fit for 21st century learners and instructors. Meant for a beginning Spanish sequence, Dicho y hecho: Beginning Spanish, 10th Edition retains its characteristic easy-to-implement, lively approach, and preserves its emphasis on sound pedagogy and its commitment to innovation and a learning and teaching experience that is highly effective, flexible and enjoyable. Dicho y hecho, 10th Edition employs a suite of online learning systems to bring language learning into the modern classroom while keeping it simple.
Table of contents
Capítulo 1: Nuevos encuentros
Capítulo 2: La vida universitaria
Capítulo 3: Así es mi familia
Capítulo 4: ¡A la mesa!
Capítulo 5: Nuestro tiempo libre
Capítulo 6: La vida diaria
Capítulo 7: Por la ciudad
Capítulo 8: De compras
Capítulo 9: La salud
Capítulo 10: Así es mi casa
Capítulo 11: Amigos y algo más
Capítulo 12: Vive la naturaleza
Capítulo 13: De viaje
Capítulo 14: El mundo moderno
Capítulo 15: El mundo en las noticias
New To This Edition
Improved presentation of new material, optimizing learners' ability to integrate new language while engaging and motivating them:

New dialogues and paragraphs introduce and contextualize new grammar, giving learners an opportunity to observe the forms and experience the meaning of the new language before formal explanations or English equivalents are offered.
New illustrations introduce vocabulary in the Así se dice spreads.
Cultural content is updated throughout and includes more experiential, investigative, cross-cultural tasks in Cultura pages and Notas culturales and the new En mi experiencia boxes stories told by American college students about their experiences in Spanish-speaking countries. Culture is also more integrated within activities.
Activity sets optimize students' acquisition and lead to confidence in their communication skills.

Revised and refined activity sets to ensure a well-developed sequence that takes learners from input-based practice, through meaningful form-focused practice, and concluding with guided output and open-ended activities.
Dicho ensures a balance in the use of different skills as well as types of interaction throughout each chapter.
A new Proyecto spread after every five chapters gives students an opportunity to use the language they are learning creatively, in engaging collaborative tasks where they must think critically, negotiate in groups and present their work to the rest of the class. In this section, students assimilate language from all five preceding chapters and put their knowledge into practice.
Activity directions are in Spanish beginning in Capítulo 5.
A new design visually enhances the straightforward, user-friendly nature of the program. Lexical and structural information is more clearly identified, and the progression from presentation to practice is now more obvious to students. A series of helpful icons also point out the skills being practiced, whether the activity involves pair work or group work, and when the use of technology can be integrated.
Updated content and photos, focusing on key aspects of current lifestyles such as technology, social media, concerns about the environment, etc.
Updated Teacher Annotations in the Instructors Annotated edition, including additional suggestions and alternatives for the use of WileyPLUS.
Features
Flexible and easy-to-adapt. Dicho y hecho, Edition 10 offers great flexibility to fit the increasing variety of course formats, contact-hours, and determinations of scope for beginning level courses and personal teaching styles. Dicho y hecho, Edition 10 is also available in a brief edition to offer flexibility in your Spanish class.
Diverse and Engaging Activities. Dicho y hecho combines a broad array of class-tested and innovative activities that involve all language skills (listening, speaking, reading, and writing) and move consistently from input processing to guided and structured output for practice, to output for original and meaningful expression.
ACTFL Standards. Dicho y hecho is entirely mindful of the five Cs and develops students' proficiency in level-appropriate tasks and activities in all three communicative modes.
Grammar as a Means for Communication. Grammar is presented with precise, simple explanations, clear charts, and abundant example sentences that draw immediate connections between forms and their communicative use. Grammar topics are introduced with brief exchanges that put new structures in the context of real-life communication.
Integrated and Interdisciplinary Cultural Information. Through an appealing combination of readings, maps, photos, and realia in the Cultura section, and Notas culturales that appear frequently throughout each chapter, Dicho y hecho introduces students to the geography, politics, arts, history, and both traditional and contemporary cultural aspects of the countries and peoples that make up the Spanish speaking world.
Chapter 0 Fundamental Grammar Concepts module uses English to provide a foundation in the basic grammar concepts students need but are so often lacking when they begin college foreign language study.