Dictionary of Financial Risk Management, 3rd Edition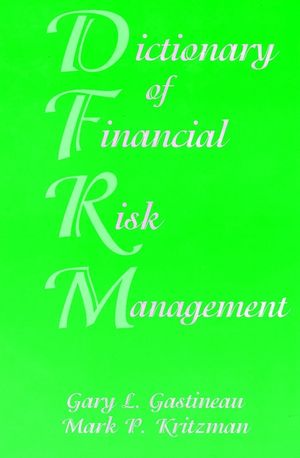 Dictionary of Financial Risk Management, 3rd Edition
ISBN: 978-1-883-24957-1
Nov 1999
346 pages
Description
Gary Gastineau and Mark Kritzman team up once again for the third edition of this classic reference tool designed for financial analysts and managers. Anyone involved in financial risk management must have a proper understanding of the words, terms, and phrases used in this fast paced field-and Dictionary of Financial Risk Management clearly provides that understanding. Risk management terminology is a part of almost any financial operation, including cash, forwards/futures, swaps, options-and is found in many disciplines: probability and statistics, tax and financial accounting, and law. The vocabulary of the risk manager continues to expand with the creation of new products and new concepts. This volume carefully defines and illustrates all the words and phrases that financial professionals need to know and understand. The Dictionary of Financial Risk Management includes listings of common acronyms, profit/loss diagrams of new financial instruments, and extensive coverage of derivatives and quantitative techniques. This invaluable reference guide provides comprehensive definitions of the key terms and concepts that many financial professionals need to know on a day-to-day basis.
Preface.

Acknowledgments.

The Essentials of Financial Risk Management.

Dictionary Listings.

Appendix.

Greek Alphabet.

Selected Currency Symbols.

Debt Ratings.