Dictionary of International Security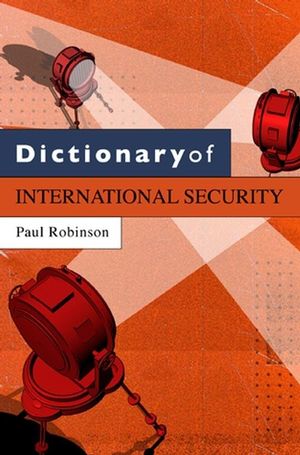 Dictionary of International Security
ISBN: 978-0-745-64027-3 March 2008 Polity 208 Pages
Description
The
Dictionary of International Security
provides an easily understood introduction to the major concepts, issues, actors and institutions in the world of international security. Its 200 entries offer informed definitions of the subjects in question, as well as insights into the evolving debates over their meaning and importance. Entries are arranged alphabetically, from absolute war to weapons of mass destruction, and cover:


types of security, such as national security and co-operative security;

key concepts, including anarchy and balance of power;
threats to security, from biological weapons to proliferation;

responses to these threats, such as arms control and containment;

terrorist organisations;

topics related to peace and peacebuilding, such as conflict prevention and war termination;

key international treaties and arms control initiatives;
security and intelligence organisations;

international organisations.
Each entry is followed by carefully selected recommendations for additional reading to help students deepen their understanding of the topic. Overall, the dictionary is an invaluable resource for students, researchers and policy makers.
Table of contents
Introduction: Dictionary of International Security

Dictionary of International Security: Entries A-Z
Reviews
"An impressive book which would be useful both to a student beginning their academic career or an expert looking for a concise definition of a complex and difficult-to-determine concept."
Political Studies Review
"Where this book is strong is on the concepts underlying international security concerns, particularly as viewed through the national security or military prism. This is Robinson's background and specialism and it is here that he excels."
Reference Reviews
"Here is a great reference volume that puts authoritative and clearly written definitions for a wide array of terms in the international security studies field readily into the hands of graduate and undergraduate students. This dictionary will be an invaluable tool for navigating the most important conceptual landmarks in the international security studies literature."
Richard L. Russell, Georgetown University and National Defense University
"Writings on international security tend to be dense, not merely with one set of specialist terms, but with many. As one reads about this topic, one encounters scholarly concepts, diplomatic euphemisms, journalistic catch-phrases and the acronym-laden language of contemporary armed forces. Robinson's comprehensive and highly informative dictionary explains these various terminologies in plain English, providing an invaluable guide to works on the subject of international security and alerting even the most experienced readers to the full meanings of terms in this field."
Thomas M. Kane, University of Hull
Features


the first dictionary to provide students with a handy reference guide to the field of international security

includes over 200 entries on a wide range of concepts, issues, treaties and institutions from absolute war to weapons of mass destruction

opens with an broad introductory chapter, which lays out the contested and evolving meaning of security in the contemporary world

includes carefully selected further reading suggestions and websites with each entry.