Dieting For Dummies, 2nd Edition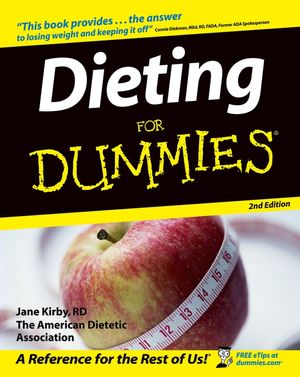 Dieting For Dummies, 2nd Edition
ISBN: 978-0-764-54149-0
Dec 2003
388 pages
Description
Does the world really need another book on dieting? More important, do you? Plenty of diet books make promises that this one doesn't. Lots tell you that losing weight and keeping it off is easy when you know their secrets. Well, here's a secret that the other books won't tell you: Dieting gimmicks, like banning pasta, don't work. And that's precisely why you need this book. It's not about fad plans or take-it-off-quick schemes. It's about balancing healthful eating and exercise for a lifetime.

This second edition of Dieting For Dummies is for anyone who has eaten too much and wants to lose weight. The information presented here is appropriate for someone wanting to lose 10 pounds or 100 pounds. You can use it as a guide for eating healthfully, and not only a way to lose weight. Because, when you discover how to eat the healthy way, you will lose weight.

The material in Dieting For Dummies is grouped so that you don't have to start at the beginning – although that's a nice place to start. If you'd rather, you can flip right to the chapter that contains the information you need. You'll discover information on
Understanding what a healthy weight is and how to find yours
Getting over overeating
Formulating a plan for healthy eating
Shopping, cooking, and dining out to make eating healthy easier
Finding and working with health-care professionals you can trust, for when you can't seem to go it alone
People come in a wide range of heights, weights, and girths. One is not better than another. But staying within your healthiest weight range can help you achieve optimal health and well-being. Let this book help you see through the fog of fads and myths. Then read on and find out how you can stop dieting and start living healthfully.
Introduction.
Part I: So You Wanna Lose Weight?
Chapter 1: Getting Started.
Chapter 2: Exploring the Connection between Weight and Health.
Chapter 3: Assessing Your Own Weight.
Chapter 4: Are You Destined to Be Overweight?.
Part II: Getting Over Overeating.
Chapter 5: Turning Down Your Hunger Alarm.
Chapter 6: Understanding Your Relationship with Food.
Chapter 7: Marketing to the Masses: The Conspiracy to Consume.
Part III: Formulating a Plan for Healthful Eating.
Chapter 8: Calorie Basics.
Chapter 9: Putting Healthful Eating Guidelines into Practice.
Chapter 10: Using the Dietary Guidelines to Design Your Own Diet.
Chapter 11: A Matter of Taste: Using Fat Substitutes and Artificial Sweeteners.
Chapter 12: Becoming More Active.
Part IV: Shopping, Cooking, and Dining Out.
Chapter 13: Healthy Grocery Shopping.
Chapter 14: Outfitting and Using Your Kitchen.
Chapter 15: Eating Healthfully While Eating Out.
Part V: Enlisting Outside Help.
Chapter 16: Getting Help from a Weight-Loss Professional.
Chapter 17: When Surgery Is the Only Solution.
Chapter 18: Using Medications for Weight Control.
Chapter 19: Joining a Weight-Loss Program.
Chapter 20: Rating the Diet Plans.
Part VI: Special Circumstances.
Chapter 21: Eating Disorders: When Dieting Goes Too Far.
Chapter 22: What to Do If Your Child Is Overweight.
Chapter 23: Weight Loss for Athletes.
Part VII: The Part of Tens.
Chapter 24: Ten Myths about Dieting.
Chapter 25: Ten Ways to Cut Calories.
Chapter 26: Ten Strategies to Keep the Weight Off.
Chapter 27: Ten Rules for Eating Healthfully.
Chapter 28: Ten Recipes for a Healthier Lifestyle.
Appendix: Weight Management Resources.
Index.