Differentiated Instruction Made Easy: Hundreds of Multi-Level Activities for All Learners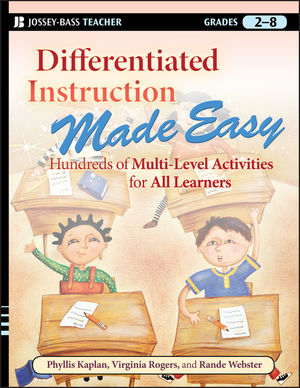 Differentiated Instruction Made Easy: Hundreds of Multi-Level Activities for All Learners
ISBN: 978-0-470-37235-7
Oct 2008, Jossey-Bass
224 pages
Description
Differentiated Instruction Made Easy is a hands-on resource that is designed for teachers to support the individual learning needs of their students as they participate in similar tasks. Teachers will find hundreds of creative ideas that will motivate and reinforce learning for all students in grades 3-8. The book's dynamic activities are targeted to specific subject areas and will help students to experience success despite their learning challenges.
Buy Both and Save 25%!
Original Price:$51.90
Purchased together:$38.93
save $12.97
Cannot be combined with any other offers.
Introduction.
About the Authors.
Acknowledgments.
Sample Contract.
Part 1 Specific Subject Area Activities.
1. Reading Activities.
New Word Treasure Chest Contract.
Phonics Contract.
Phonics Task Cards.
Phonics Activities.
Book Report.
Poetry Contract.
2. Spelling Activities.
Spelling Contract.
Spelling Task Cards.
Spelling Flash Cards.
3. Writing Activities.
A Dear __________ Contract.
Creative Expression Contract.
Creative Idea Cards.
My Journal.
4. Math Activities.
Funny Money Contract.
Math Contract.
Story Problem Wheels.
Story Problem Task Cards.
Arithmetic Task Cards.
5. History Activities.
The Historical Person Contract.
The Historical Invention Contract.
The Historical Travel Contract.
The Historical Event Contract.
6. Geography Activities.
Map About Me.
My Map.
The Fifty States.
Outline of U.S. Map.
Blank U.S. Map.
Countries of the World Contract.
Transportation Worksheet.
Transportation Cards.
7. Science Activities.
Sensational Five Contract.
Our Senses.
Our Senses Wheels.
Insect Task Cards.
Reptile Contract.
Bird Contract.
Task Cards for Serious Bird Students.
Animal Contract.
Animal Task Cards.
Fish and Water Mammals Contract.
8. Media Activities.
Newsworthy Activity Contract.
News Wheels.
News Task Cards.
Application for Media Job.
You Name It! Newspaper Worksheet.
9. Art Activities.
Art Contract.
Suggested Art Center Supplies.
Art Idea Cards.
Art History Task Cards and Wheel.
Famous Artists.
Beading and Jewelry Contract.
10. Music Activities.
Music Contract.
Instrument Task Wheels.
Instrument Task Cards.
Type of Music Task Cards and Wheel.
Task Cards (Using Staff Paper).
Music Wheel and Task Cards.
Staff Paper.
11. Imagine-Ifs: Fantasy Activities.
Fantasy Suggestions.
Imagine-If Cards.
Imagine-If Application.
Deserted Island.
Imagine-If Contract.
Imagine-If Idea Cards.
Imagine-If Task Wheels.
Imagine-If Task Cards for Use with Wheels.
12. Peacemaking and Service Learning.
Peacemaker Contract.
Sharing and Caring Wheel.
Sharing and Caring Task Cards.
Feelie Wheelies.
Feelie Wheelies Task Cards.
Facing Feelings Worksheet.
Facing Feelings Task Cards.
Care and Share Chart.
Weekly Journal Record.
Part 2 Gameboards, Wheels, Open-Ended Add-ons, and Awards.
13. Multilevel Gameboards.
14. Multilevel Task Wheels.
15. Open-Ended Add-ons.
Journal Sheet.
Staff Paper.
Graph Paper.
Cartoon Strips.
Game Instruction Form.
Open-Ended Contract.
Calendar.
16. Awards.