Diffusion of Innovations in Health Service Organisations: A Systematic Literature Review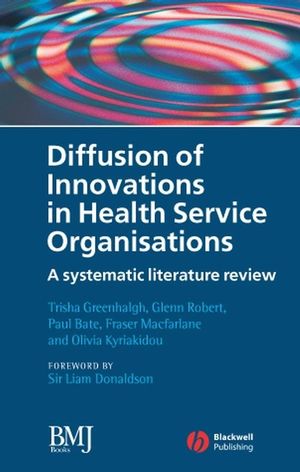 Diffusion of Innovations in Health Service Organisations: A Systematic Literature Review
ISBN: 978-0-470-98740-7 October 2007 BMJ Books 328 Pages
Description
This is a systematic review on how innovations in health service practice and organisation can be disseminated and implemented. This is an academic text, originally commissioned by the Department of Health from University College London and University of Surrey, using a variety of research methods. The results of the review are discussed in detail in separate chapters covering particular innovations and the relevant contexts. The book is intended as a resource for health care researchers and academics.
Table of contents
Summary overview.
Chapter 1 Introduction.
Chapter 2 Method.
Chapter 3 Research Traditions.
Chapter 4 Innovations.
Chapter 5 Adopters and Adoption.
Chapter 6 Diffusion and Dissemination.
Chapter 7 The Inner Context.
Chapter 8 The Outer Context.
Chapter 9 Implementation and Institutionalization.
Chapter 10 Case Studies.
Chapter 11 Discussion.
Appendix 1 Data Extraction Form.
Appendix 2 Quality Checklists.
Appendix 3 Descriptive Statistics on Included Studies.
Appendix 4 Tables of Included Studies
Reviews
'This book is a towering work of remarkable scholarship. It bathes in light what was previously a shadowland of opacity, misconception, theory-hopping and misplaced enthusiasm.'
Sir Liam Donaldson
Chief Medical Officer
Features
Highly regarded systematic review on health care implementation


Based on research funded by the Department of Health Service and Delivery Organisation programme


Provides a model for understanding the complexities of spreading and sustaining innovations in health services


Uses case studies to demonstrate practical applications


Will be automatically promoted via Department of Health glossy