Digital Art Photography For Dummies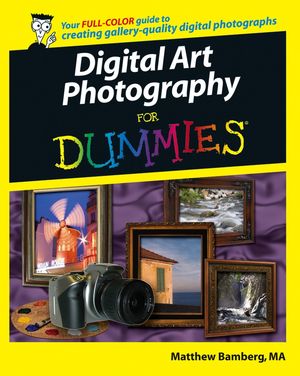 Description
So you've made the jump to digital photography and you're having a ball with your new camera, right? Now, you're wondering just what it would take to make your photos a little more than just snapshots. Well, Digital Art Photography For Dummies is a great place to find out!

You'll not only discover great new ideas, you'll see the effects in full color. This book will help you
Get fabulous, well-exposed photos, no matter what your shooting conditions may be
Tweak, edit, and enhance your images to create something a lot better than what you started with, or maybe something entirely new
Produce gallery-worthy art prints that people are willing to pay for
Find out if it's time to upgrade your computer to handle graphics work
Sound like fun? This plain-English guide makes it easy, too! You'll find out just what makes a picture artistic, how to plan and set up a good photo shoot, what kinds of tools are available in Photoshop to help you enhance or even completely revamp an image, and how to be sure that what comes out of your printer meets all your expectations.   Best of all, this book is jam-packed with full-color images that show you just what you can produce. You'll find out how to
Select the right digital equipment
Shoot in color, black-and-white, and at night
Choose subject matter that fits your style
Understand and use your camera's settings to get the best shots
Photograph landscapes, people, action, and just about anything else
Create special effects in Photoshop
Improve the quality of your photos or turn them into true works of art
Mat and frame your work for maximum effect
If you're comfortable with your digital camera but want to find out more about creating cool effects in Photoshop, you can jump directly to Part III and discover tips and techniques that turn ordinary pictures into extraordinary art. Or maybe you've been trying to get better nighttime photos. Part II is all about setting up your equipment and getting the perfect shot. Like all For Dummies books, Digital Art Photography For Dummies is designed so you can go directly to the part that most interests you.
Whether you've been thinking of selling your work or you just want to create a knock-their-socks-off family gallery that your relatives can view online, this book shows you how to take your photography hobby to the next level. Even if you just want to look at the pictures for inspiration, you can't go wrong!
Introduction.
Part I: The Art of a Digital Picture.
Chapter 1: Digital Art Photography 101.
Chapter 2: Making the Digital Leap.
Chapter 3: Your Digital Technology.
Chapter 4: Defining Yourself and Your Photographs.
Part II: The Photo Shoot.
Chapter 5: Composing a Shot Outdoors.
Chapter 6: Composing a Shot Indoors.
Chapter 7: Photographing People and Animals.
Chapter 8: Shooting for Color in Art Photography.
Chapter 9: Crafting a Quality Black-and-White Art Photo.
Chapter 10: Night Art Photography.
Chapter 11: Achieving Creative Results When Shooting.
Part III: Photoshop Art: Using Software to Enhance or Create Art Photos.
Chapter 12: Adding New Life to Old Photos.
Chapter 13: Combining and Manipulating Images.
Chapter 14: Using Layers to Create a Theme.
Chapter 15: Using Photoshop for Special Effects.
Part IV: The Final Output: Gallery-Worthy Prints.
Chapter 16: Managing and Preparing Files.
Chapter 17: Printing Prep and Printing.
Chapter 18: Framing and Matting.
Part V: The Part of Tens.
Chapter 19: Ten Photo Digital Art Rules.
Chapter 20: Ten Digital Art Tricks.
On the Web.
Bonus Chapter 1: Telling (And Selling) a Story Using Photo Sets.
Bonus Chapter 2: Enhancing Art Photos with Text.
Index.
"there is a lot of content packed into 370 pages…served up in a friendly manner…" (
Amateur Photographer
, September 2006)
Journalist/photo artist Bamberg provides a thorough overview not only of digital photography but also of photography in general. In Part 1, he offers solid, practical advice on defining one's audience and personal approach to photography and discusses the process of making photographs, various compositional elements (e.g., color, light and shadow, perspective), and the transition to digital photography. Part 2 contains wide-ranging tips about photographing outdoors and indoors, photographing people and animals, and taking color, black-and-white, and night shots. Part 3 deals with the use of PhotoShop; Part 4 is about managing digital files, printing photographs, and matting and framing one's work. In Part 5, and in a bonus section titled "On the Web," Bamberg imparts additional tips that address everything from photographing on a cloudy day to enhancing one's photographs with text. The book includes a useful index for locating specific information and is illustrated with more than 300 full-color photographs. Bamberg has written a remarkably clear and comprehensive overview of digital photography; recommended for all libraries, especially for public libraries where there is interest in amateur photography.
—Raymond Bial, First Light Photography, Urbana, IL (Library Journal, April 1, 2006)