Digital Design with RTL Design, VHDL, and Verilog, 2nd Edition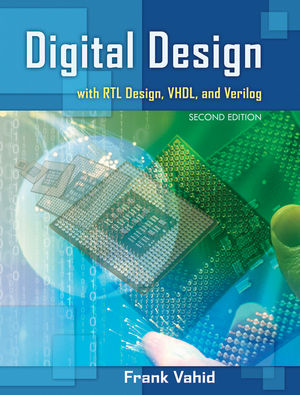 Digital Design with RTL Design, VHDL, and Verilog, 2nd Edition
ISBN: 978-0-470-53108-2 March 2010 594 Pages
Description
"Thank you very much for this wonderful textbook. It is the best textbook I have ever seen. The students like it so much."
--Mahamed G. H. Omran, PhD, Assistant Professor, Gulf University for Science & Technology, Kuwait
Unique with its RTL-early organization, Vahid's text supports instructors wishing to develop strong design skills in their students. The emergence of parallel processing, multicore processors and FPGAs are blurring the lines between hardware and software and fundamentally altering the way digital design and design logic should be taught. Vahid's RTL-early approach better assists students in grasping the essential design fundamentals before digging into specific details of design optimization.
Table of contents
Chapter 1 - Introduction.
Chapter 2 - Combinational Logic Design.
Chapter 3 - Sequential Logic Design-Controllers.
Chapter 4 - Datapath Components.
Chapter 5 - Register-Transfer Level (RTL) Design.
Chapter 6 - Optimizations and Tradeoffs.
Chapter 7 - Physical Implementation.
Chapter 8 - Programmable Processors.
Chapter 9 - Hardware Description Languages.
Appendix A: Boolean Algebras.
Appendix B: Additional Topics in Binary Number Systems.
Appendix C: Extended RTL Design Example
Index.
New To This Edition
New robust book companion site for students and instructors.
HDL supplements now available as print-on-demand or digital ebook.
Features
RTL-early approach.