Digital Marketing: Global Strategies from the World's Leading Experts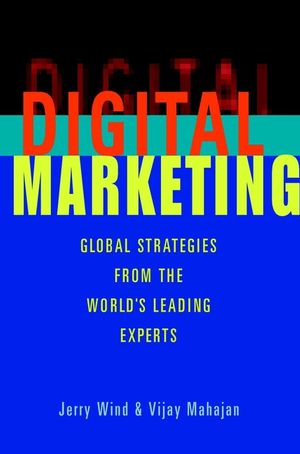 Digital Marketing: Global Strategies from the World's Leading Experts
ISBN: 978-0-471-00875-0 March 2002 432 Pages
Description
The first in a series of books from Wharton's prestigious SEI Center, managed by Professor Jerry Wind, this reference focuses on marketing strategies, methods, and cases used specifically for e-commerce businesses operating globally. It includes contributed chapters from leading thinkers from top U.S. business schools including Wharton, the University of Texas, Columbia, Harvard, Northwestern, University of Michigan, Duke, and MIT. Many of the contributors, in addition to teaching MBA and Executive Education seminars, also consult to major corporations around the world.
FOUNDATIONS.

The Challenge of Digital Marketing (J. Wind and V. Mahajan).

The Digital Technological Environment (T. Ruefli, et al.).

Infrastructure for E-Business (R. Kohli).

Strategic Uncertainty and the Future of Electronic Consumer Interaction: Developing Scenarios, Adapting Strategies (E. Clemons and S. Bradley).

Economic Perspectives on Digital Marketing (A. Barua, et al.).

Digital Marketing and the Exchange of Knowledge (T. Davenport and S. Jarvenpaa).

CONSUMER BEHAVIOR AND MARKET RESEARCH.

Consumer Behavior in Digital Environments (U. Dholakia and R. Bagozzi).

The Internet Buyer (D. Reibstein).

Rethinking Market Research for the Digital World (R. Burke, et al.).

Data Mining Digital Customers (N. Levin and J. Zahavi).

IMPLEMENTATION.

Technology-Driven Demand: Implications for the Supply Chain (M. Fisher and D. Reibstein).

New Offering Realization in the Networked Digital Environment (S. Balasubramanian, et al.).

Digital Marketing Communication (J. Deighton and P. Barwise).

Pricing Opportunities in the Digital Age (H. Simon and H. Schumann).

Contributors.

Index.