Digital Marketing For Dummies, UK Edition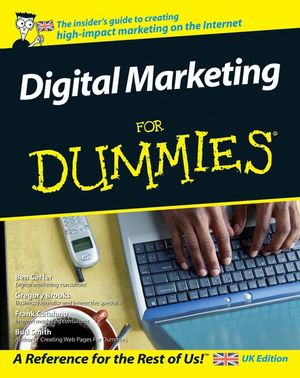 Digital Marketing For Dummies, UK Edition
ISBN: 978-1-119-99777-1
Jan 2011
302 pages
Description
Thirty million online UK customers are just a click away, and Digital Marketing For Dummies shows you how to reach them. The author team of internet and marketing experts introduce you to the latest high-impact tools and techniques so you can promote your business with creativity and innovation, and stand out from your competitors.
Introduction.
Part I: Getting Started with Digital Marketing.
Chapter 1: Getting Net-Savvy.
Chapter 2: Market Size Matters.
Chapter 3: Your Digital Marketing Plan.
Part II: Marketing on the World Wide Web.
Chapter 4: Mastering Your Domain.
Chapter 5: Planning Your Business Web Site.
Chapter 6: Marketing on Your Web Site.
Chapter 7: Getting the Most Out of Your Web Site.
Part III: Marketing with Search.
Chapter 8: Optimising Your Web Site for Search Engines.
Chapter 9: Understanding the Power of Google.
Chapter 10: Getting to Grips with Paid Search.
Chapter 11: Checking Out Affiliate Marketing.
Part IV: Even More Digital Marketing.
Chapter 12: Controlling the Message with Online Advertising.
Chapter 13: Spreading the Word with Internet PR.
Chapter 14: The Emergence of Web 2.0.
Part V: The Part of Tens.
Chapter 15: Ten Advantages of Digital Marketing.
Chapter 16: Ten Disadvantages of Digital Marketing.
Chapter 17: Ten Offline Marketing Resources.
The Digital Marketing For Dummies
Internet Directory.
Index.