Digital Photography All-in-One Desk Reference For Dummies, 4th Edition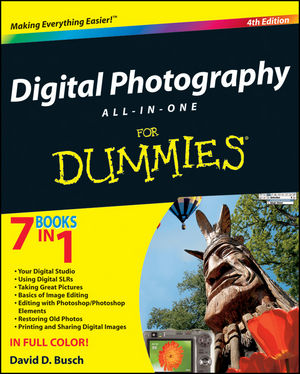 Digital Photography All-in-One Desk Reference For Dummies, 4th Edition
ISBN: 978-0-470-44786-4 January 2011 670 Pages
Description
It's easy to get started in digital photography and take great photos with Digital Photography All-in-One Desk Reference For Dummies!   This fourth edition helps you choose the right camera, compose and capture great photos, load them onto your computer, enhance them with Photoshop, and share them online or as prints. Here's how to compare digital camera features, choose accessories, and explore digital SLRs; get great close-ups, sports and action shots, and portraits; and use image editors including Paint Shop Pro, Corel PhotoPaint, PhotoImpact, and Adobe's popular Photoshop and Photoshop Elements. You'll also discover how to:
Compose pictures that communicate
Make the most of macro photography
Get great candid photos
Create the right lighting and use cool lighting gadgets
Take advantage of six cool improvements in digital SLRs
Follow great ideas for getting your photos published
Take great shots in a wide range of situations
Learn to repair and restore treasured heirloom photos
Turn your images into greeting cards, T-shirts, online albums, or prints
You'll quickly find what you need in one of the seven minibooks:
Your Digital Studio
Using Digital SLRs
Taking Great Pictures
Basics of Image Editing
Editing with Photoshop/Photoshop Elements
Restoring Old Photos
Printing and Sharing Digital Images
Digital Photography All-in-One Desk Reference For Dummies, 4th Edition gets you up to speed on digital cameras and all the tricks, so you can truly enjoy your digital photography experience.
Introduction.
Book I: Building Your Digital Photography Studio.
Chapter 1: Choosing the Right Camera.
Chapter 2: Getting Your Pictures from the Camera to the Digital Darkroom.
Chapter 3: Picking Up Some Accessories.
Book II: Using Digital SLRs.
Chapter 1: The Digital SLR Advantage.
Chapter 2: Mastering Digital SLR Controls.
Chapter 3: Working with Lenses.
Book III: Taking Great Pictures.
Chapter 1: Tools and Techniques of Composition.
Chapter 2: Close-Up Photography.
Chapter 3: Photographing People.
Chapter 4: Shooting for Publication.
Chapter 5: Sports and Action Photography.
Chapter 6: Travel Photography.
Book IV: Basics of Image Editing.
Chapter 1: What You Can and Can't Do with Image-Editing Tools.
Chapter 2: Common Editing Options.
Book V: Editing with Adobe Photoshop and Photoshop Elements.
Chapter 1: Introduction to Photoshop CS4 and Photoshop Elements 7.
Chapter 2: Making Selections.
Chapter 3: Brushing Away Problems with Digital Photos.
Chapter 4: Restoring Images.
Chapter 5: Correcting Faded, Funny, or Funky Colors and Tones.
Chapter 6: Enhancing Photos with Filters and Special Effects.
Book VI: Restoring Old Photos.
Chapter 1: Scanning Old Photos.
Book VII: Printing and Sharing Your Digital Images.
Chapter 1: Printing Your Final Result.
Chapter 2: Sharing Pictures on the Web.
Index.