Digital Photography Bible, Desktop Edition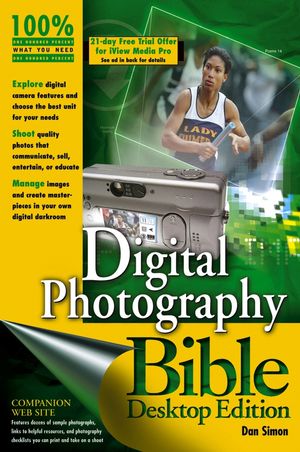 Description
Featuring thirty-two pages of full-color examples, this under-$25 guide is the perfect digital photography reference for serious amateurs as well as nonprofessional photographers who use a digital camera on the job
Walks readers through the entire digital photography workflow, from shooting photos and editing them in the digital darkroom to cataloging, printing, and publishing images online
Topics covered include selecting cameras, printers, and accessories; mastering basic digital camera techniques; getting great results when shooting sports, nature, landscapes, and people; and working with Photoshop and other image-editing and image-management software
Features step-by-step tutorials, full-color before-and-after images, and a companion Web site with bonus sample images plus a mini take-along field guide that readers can print out
Preface.
Acknowledgments.
Part I: Laying the Foundation—Basic Digital Photography.
Chapter 1: What You Need to Know to Get Started.
Chapter 2: Basic Camera Operation.
Chapter 3: Taking Interesting Photographs.
Part II: Taking the Next Step—Photographs That Wow!
Chapter 4: Creating Magic with the Right Lens.
Chapter 5: Going to Extremes: Aperture and Shutter Speed Magic.
Chapter 6: Expanding Your Horizons: Panoramic and Bad Weather Photography.
Chapter 7: Let There Be Light.
Part III: Tackling Different Photographic Subjects.
Chapter 8: Photographing People.
Chapter 9: Photographing Sports.
Chapter 10: Photographing Nature.
Chapter 11: Photographing Landscapes.
Chapter 12: Photographing Travel Destinations.
Chapter 13: Telling a Story with Pictures.
Part IV: Doing Your Own Image Processing.
Chapter 14: Introduction to the Digital Darkroom.
Chapter 15: Image Processing.
Chapter 16: Setting Up a Workflow.
Chapter 17: Image Management and Archiving.
Part V: Photography for Professionals in Other Fields.
Chapter 18: Getting It Together: Help for the Occasional Photographer.
Chapter 19: Digital Photography for Realtors.
Chapter 20: Digital Photography for Automobile Sales.
Chapter 21: Digital Photography for Company Newsletters.
Chapter 22: Digital Photography for Insurance Adjusters.
Chapter 23: Digital Photography for Research and Documentation.
Chapter 24: Digital Photography for Artists and Graphic Artists.
Chapter 25: Digital Photography for Public Relations Specialists.
Part VI: Putting Digital Photography to Work.
Chapter 26: Creating a Digital Presentation.
Chapter 27: Photographing Business Subjects.
Chapter 28: Techniques for Unusual Images.
Appendix A: Digital Photography Definitions.
Appendix B: Digital Photography Techniques.
Appendix C: Tools, Solutions, and Emergencies.
Appendix D: What's New in Photoshop.
Index.
"…you can't doubt the usefulness of the information it provides…" (Digital Creative Arts, September 2004)