Digital Photography Essentials: Point, Shoot, Enhance, Share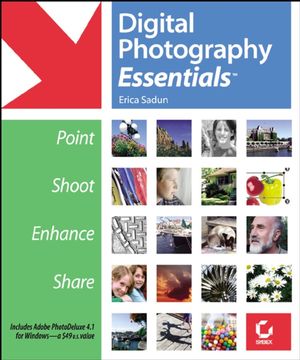 Digital Photography Essentials: Point, Shoot, Enhance, Share
ISBN: 978-0-782-14177-1
Oct 2002
268 pages
Product not available for purchase
Description
The Perfect Companion for Your Digital Camera
Digital cameras are more than just cameras with electronic chips inside--they've revolutionized how we take pictures and what we do with them. If you're new to digital photography, Digital Photography Essentials offers everything you need to get up to speed fast. You'll find essential information about your camera and equipment, techniques for editing and enhancing your pictures, expert advice on sharing your images with others, and a wealth of digital photography tips, tricks, and project ideas.

A Complete Solution
The companion CD includes all the software you need, including a full version of Adobe PhotoDeluxe 4.1 for Windows (a $49 U.S. value) and a fully functional tryout of Adobe Photoshop Elements for both Windows and Mac. In the book, you'll find step-by-step instructions that show how to repair, enhance, and just have fun with your images. There's nothing more to buy.

Packed with information, software, and the insights of best-selling author Erica Sadun, Digital Photography Essentials is the perfect guide for digital photographers. Topics covered include:
* Composing shots, lighting scenes, and posing subjects
* Managing your digital camera's batteries, memory cards, and more
* Enhancing your images and fixing picture flaws
* Discovering imaginative and creative uses for digital photos
* Sharing photos via e-mail and the World Wide Web
* Making DVDs, picture CDs, and video CD slide shows
Introduction.
Chapter 1: Composition, Lighting, and Posing: Some Tried-and-True Advice.
Chapter 2: Digital Camera Equipment.
Chapter 3: An Introduction to PhotoDeluxe.
Chapter 4: Digital Photo Editing.
Chapter 5: New Viewpoints: Postprocessing Your Images.
Chapter 6: Digital Photo Printing.
Chapter 7: Photos on CDs and DVDs.
Chapter 8: Share Your Pictures.
Chapter 9: Digital Camera Versatility.
Chapter 10: Digital Camera Crafts.
Chapter 11: Photo Transformation Projects.
Chapter 12: Just for the Fun of It: Digital Photo Projects.
Appendix: Field Guide to Online Photo Finishing and Album Sites.
Glossary.
Index.
Chapter
Page
Details
Date
Print Run
Combined Errata


Page 83

Refers to PDDEMO folder that is not on the CD. You will find the missing files in the downloads section.

---