Digital Photography For Dummies, 5th Edition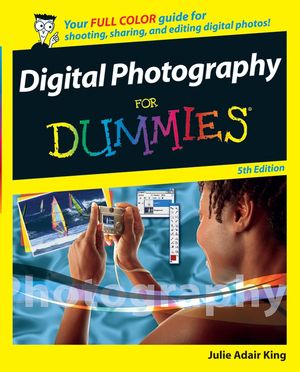 Digital Photography For Dummies, 5th Edition
ISBN: 978-0-471-77533-1
Sep 2005
380 pages
Product not available for purchase
Description
Isn't that digital camera so cool? There must be a hundred things it will do that you haven't really figured out yet, right? For that matter, just getting the hang of all the features you DO know about may be keeping you busy. With your digital camera, you can
See immediately whether you got the shot you wanted
Take dozens of photos to be sure you get what you want, and just delete the ones you don't like
Edit and enhance your pictures on your computer
E-mail images to friends, post them on the Web, make prints, or create photo gifts
The more you know about your digital camera and about digital photography, the more you'll enjoy taking pictures and the better your pictures will be. Of course, the best way to see examples of good photographic techniques is in full color, and Digital Photography For Dummies, 5th Edition gives you exactly that — plenty of beautiful, colorful photos that show you what you can accomplish and start the ideas popping.
With a digital camera, a computer, and some photo-editing software, you can explore unlimited creative opportunities. You don't have to be a computer whiz or a professional photographer, either. Digital Photography For Dummies, 5th Edition helps you get the hang of
Choosing the right camera, software, and accessories for what you want to do
Editing your images with Adobe Photoshop Elements 3.0
Using your camera's settings, composing great pictures, managing exposure and lighting, and working with automatic modes
Getting your images out of the camera and onto your computer, organizing them, and sharing them online or in print
Doing cool things with your pictures, like sharpening focus, covering flaws, adding people from other photos, and jazzing up your images with special effects
Written by Julie Adair King, a photographer who has penned several other books on the subject, colorful Digital Photography For Dummies, 5th Edition can help you take better digital photos, do more with them, and have a lot more fun with your camera. You'll get the picture!
Introduction.
Part I: Peering through the Digital Viewfinder.
Chapter 1: Filmless Fun, Facts, and Fiction.
Chapter 2: Mr. Science Explains It All.
Chapter 3: In Search of the Perfect Camera.
Chapter 4: Extra Goodies for Extra Fun.
Part II: Ready, Set, Shoot!
Chapter 5: Choosing the Right Camera Settings.
Chapter 6: Controlling Exposure and Focus.
Chapter 7: Take Your Best Shot.
Part III: From Camera to Computer and Beyond.
Chapter 8: Building Your Image Warehouse.
Chapter 9: Can I Get a Hard Copy, Please?
Chapter 10: On-Screen, Mr. Sulu!
Part IV: Tricks of the Digital Trade.
Chapter 11: Making Your Image Look Presentable.
Chapter 12: Cut, Paste, and Cover Up.
Chapter 13: Amazing Stuff Even You Can Do.
Part V: The Part of Tens.
Chapter 14: Ten Ways to Improve Your Digital Images.
Chapter 15: Ten Great Uses for Digital Images.
Chapter 16: Ten Great Online Resources for Digital Photographers.
Glossary.
Index.
Sample images for Windows users


If you are working with a Windows-based computer, and your computer is unable to view ZIP archives, you'll need to download a free trial of WinZip.

Please remember that these are copyrighted images and are provided soley for your personal use while working with Digital Photography For Dummies. Reproduction in print or on any Web site without written permission from the publisher is forbidden.

Download
Sample images for Macintosh users


Macintosh users can use Stuffit Expander to open the archive.

Please remember that these are copyrighted images and are provided soley for your personal use while working with Digital Photography For Dummies. Reproduction in print or on any Web site without written permission from the publisher is forbidden.

Download