Digital Photography Workbook For Dummies®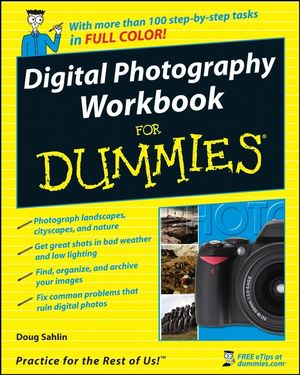 Digital Photography Workbook For Dummies®
ISBN: 978-0-470-25933-7
Apr 2008
352 pages
Product not available for purchase
Description
Digital photography has revolutionized the way people take, print, and share photos. But if you're wondering why your digital photos don't measure up to the terrific shots that some people take of sunsets, people, pets, and everything else, you probably need a little help from Digital Photography Workbook for Dummies.

With great, easy-to-follow instruction and lots of practice tasks, this roll-up-your sleeves workbook is packed with exercises to help you become a better digital photographer and photo editor. You'll learn the basics of classic photocomposition, find out how to capture and accentuate movement in action photos, and get comfortable adding even more pizzazz to your pics using Photoshop Elements. More than 100 step-by-step procedures, illustrated in full color, help you discover how to:
Get familiar with your camera's features and tools
Control depth of field
Minimize reflections
Photograph children and pets
Calibrate your monitor
Notice and remove stray objects from photos
Take great landscape, cityscape, and nature photos
Cope with adverse weather and lighting conditions
Find, organize, and archive your images
Complete with lots of tips and suggestions on how to share your photos via email, create your own Web gallery, compose slideshows and flip books, and more, Digital Photography Workbook for Dummies offers all the help, instruction, and hands-on guidance you need to boost the quality of your digital photographs from so-so to sensational!
Introduction.
Part I: Essentials for (Almost) Every Photo.
Chapter 1: Getting Chummy with Your Camera.
Chapter 2: Lights! Camera! Exposure!
Chapter 3: Creative Composition.
Part II: Taking Compelling Shots of Common Subjects.
Chapter 4: One Sun, Many Settings.
Chapter 5: Creating Photos of People and Pets.
Chapter 6: Nature and Cityscapes.
Chapter 7: Capturing Movement.
Chapter 8: Exploring Creative Effects.
Part III: Working with Photos in Photoshop Elements.
Chapter 9: Organizing Images.
Chapter 10: Processing Images.
Chapter 11: Sprucing Up Specific Spots.
Chapter 12: Adding Pizzazz with Special Effects.
Part IV: The Part of Tens.
Chapter 13: Ten Ways to Share Your Photos.
Chapter 14: Top Ten Sites for Photographers.
Index.
"A very practical looking title from an imprint that still produces the goods time and time again." (The Bookseller,  Friday 14th March 2008)