Digital Photography for 3D Imaging and Animation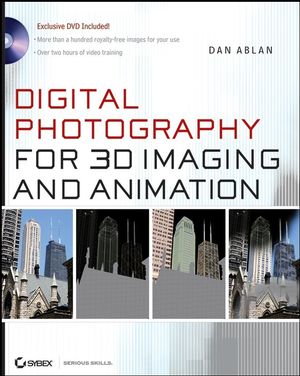 Digital Photography for 3D Imaging and Animation
ISBN: 978-0-470-16598-0
Feb 2007
314 pages
Product not available for purchase
Description
This practical and easy-to-follow book showa you how to transform your 3D projects with your own digital photographs and enhance your 3D animation by adding photographs that you've composed, lit, and shot. The featured tips and ideas will quickly have you creating quality photographs for use throughout the 3D workflow. From the mechanics of megapixels to the tricks of lighting to the art of finding the best images to shoot, you'll learn valuable techniques that will transform your designs.

Note: CD-ROM/DVD and other supplementary materials are not included as part of eBook file.
Introduction.
Chapter 1 Photography and 3D.
Early Imaging.
3D Animation.
Merging Technologies.
Digital Incorporation.
Chapter 2 Digital Photography Methods.
Working with Megapixels.
Working with Lenses.
Apertures and f-Stops.
Depth of Field.
Focal Length and f-Stop.
Your Next Shot.
Chapter 3 What to Shoot.
Composing Your Shot.
Noticing Details in Subject Matter and Light.
Shooting for 3D.
Your Next Shot.
Chapter 4 How to Shoot.
Camera Choice.
How to Handle Your Camera.
Camera Shake.
Viewfinders.
Digital SLRs.
Image Orientation and Proportion.
Framing.
Symmetry and Balance.
Patterns and Textures.
Image Orientation.
Perspective.
Your Next Shot.
Chapter 5 Image Management.
Organization.
Image Organization Software.
Color.
RGB vs. CMYK.
Hue and Saturation.
Bit Depth.
Image Types.
Lossy vs. Lossless.
RAW.
Noise.
Image Noise.
Your Next Shot.
Chapter 6 Image Mapping with Digital Photos.
Advantages of Image Mapping.
Your World.
Digital Photo vs. Image Map Size.
Image Size and Resources.
Digital Photos beyond Image Maps.
Displacement Maps from Digital Photos.
Normal Mapping.
Chapter 7 3D Imaging with Photography.
Creating an Interesting 3D Slide Show.
Creating the 3D Shapes.
Setting the Scene.
Lighting the Scene.
Animating the Scene.
Stacking Photos in 3D.
Going from Photos to Particles.
Creating Dynamic Photos.
Your Next Shot.
Chapter 8 2D Imaging Techniques.
Creating a Digital Photo Montage.
Setting Up After Effects.
Adding Multiple Digital Photos in After Effects.
Creating Secondary Elements.
Masking Digital Images.
Adding Final Elements.
Animating the Montage.
Your Next Shot.
Chapter 9 Creating and Using HDR Images.
What HDR Is.
Light-Probe Images.
Setting Up a Sphere Rig.
Taking Shots for Probe Images.
Creating an HDR Image.
Using HDR in 3D.
Your Next Shot.
Chapter 10 Image-Based Modeling.
Understanding Image-Based Modeling.
Shooting for Image-Based Modeling.
Using Realviz's ImageModeler.
Calibrating Images.
Creating Models.
Using Textures from Photos.
Exporting the Model.
Your Next Shot.
Chapter 11 Creating Panoramic Environments.
Envisioning Good Panoramas.
Planning the Shots.
Setting Exposure for Panoramas.
Correcting with Exposure Compensation.
Assembling Panoramas.
Using Panoramas in 3D.
Creating 360-Degree Panoramas.
Creating Panoramas with a Point-and-Shoot Camera.
Why a Panorama?
Taking the Shots 264
Using Simple Software to Stitch Images.
Your Next Shot.
Chapter 12 Digital Images: To 3D and Back.
Digital Image Manipulation in 3D.
Creating 3D Reflections.
Setting Up 3D Lighting.
Using 3D Filters on Digital Photos.
Creating Hairy Images.
Appendix A Choosing a Printer.
Resolution.
Paper.
Compatibility.
Size.
Appendix B Reference Materials.
Reading References.
Other References.
Index.
Chapter
Page
Details
Date
Print Run
7
Errata
The sentence "As many photographs know, light is everything." should instead read "As many photographers know, light is everything."

---