Digital Portrait Photography For Dummies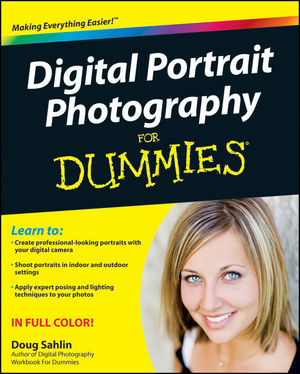 Digital Portrait Photography For Dummies
ISBN: 978-0-470-59051-5
Jan 2010
336 pages
Description
A full-color guide to the art of digital portrait photography
Portrait photography entails taking posed photographs of individuals or set scenery and is the most common photo style among the most novice photography hobbyist to the most advanced photographer. With this easy-to-understand guide, bestselling author and professional photographer Doug Sahlin walks you through the best techniques for getting professional-quality digital portraits.
Packed with hundreds of full-color photos and screen shots, this book discusses best practices for taking formal portraits, wedding photos, event photos, casual photos, and more. You'll examine the difference between using the built-in flash and natural lighting and take a look at the benefits of upgrading to a photo lighting kit and pro backdrop.
Portrait photography is the most popular style of photography
Features helpful information for everyone from beginner hobbyists to advanced photographers
Shares insider tips for selecting equipment and choosing from the various tools for portrait photography
Walks you through working with a wide range of subjects, including children, pets, and wildlife
Discusses lighting and editing images
Takes a look at ways to create a portrait that is suitable for framing
Make sure your subjects are ready for their close ups with this fun and friendly guide to digital portrait photography.
Introduction.
Part I: Introducing Portrait Photography.
Chapter 1: Exploring Portrait Photography.
Chapter 2: Choosing Your Equipment.
Chapter 3: Getting to Know Digital Photography.
Chapter 4: Becoming a Portrait Photographer.
Part II: Portrait Photography Techniques.
Chapter 5: Composing Your Portraits.
Chapter 6: Working with Your Subjects.
Chapter 7: Lighting Your Portraits.
Chapter 8: Photographing Portraits on Location.
Chapter 9: Photographing Portraits in Your Home or Office.
Part III: Editing and Sharing Your Portraits.
Chapter 10: Editing with Photoshop Elements.
Chapter 11: Retouching Your Portraits.
Chapter 12: Sharing Your Images.
Part IV: The Part of Tens.
Chapter 13: Ten Editing Tips and Tricks.
Chapter 14: Ten Photography Tips and Tricks.
Chapter 15: Ten Resources for Portrait Photographers.
Index.