Digital SLR Photography For Dummies eLearning Course (6 month)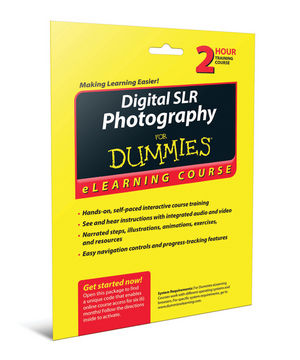 Digital SLR Photography For Dummies eLearning Course (6 month)
ISBN: 978-1-118-45738-2
Oct 2012
2 pages
Product not available for purchase
Description
**The purchase of this card includes an access code that is entered and fulfilled at the For Dummies eLearning Center. You will receive access to the course for six (6) months from date of access code entry. Details are inside the card.
For Dummies eLearning Courses are the perfect way to get you up-to-speed on a new skill! With integrated audio and video instruction, including screencasts, illustrations, animations, and video, as well as course interactivity to immediately reinforce what you've learned, For Dummies is making learning easier.
You'll learn to recognize and use all the controls on your dSLR camera and how to change lenses. Then you'll find out about key photographic principles: composition, exposure, focus, using flash, working with color, and getting great images.  In each lesson, you'll find clear, expert instruction, interactive quizzes, hands-on activities, summaries, and a way to review topics so you can progress at your own pace.
The course covers:
• How a dSLR differs from a point-and-shoot camera
• What the various controls do and how to use the built-in flash
• Steps for viewing your pictures in the camera
• How to set shutter speed, ISO, and aperture
• All about color adjustment and white balance
• Tips on avoiding red-eye
• Details about various lenses and what they do
• Advice on choosing an autofocus point
• And much more!