Digital SLR Video and Filmmaking For Dummies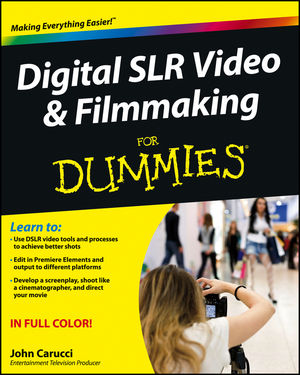 Digital SLR Video and Filmmaking For Dummies
ISBN: 978-1-118-36598-4
Feb 2013
416 pages
Product not available for purchase
Description
Step-by-step guide for using your digital SLR to make quality video
With digital SLR cameras becoming more and more popular as replacements for standalone video cameras, this book helps photographers become better videographers and shows videographers how to incorporate DSLRs into their work. The book includes an overview of the DSLR video tools and process and shows how to establish camera settings for effective capture, light a scene, get sound, and achieve the film look. The book also offers the basics on editing footage into a final product using common video editing tools.
Offers everything needed to shoot, produce, and edit a professional looking videos using DSLR video equipment
Written for both professional photographers and videographers and those just starting out
Includes the steps for applying information to a film project, including developing a screenplay, approaching shooting like a cinematographer, and directing
Contains a walkthrough of common video projects including making a music video, a wedding video, and video greeting card
Digital SLR Video and Filmmaking for Dummies is designed to help photographers ramp up their video skills, videographers add DSLRs to their toolkits, and amateurs begin shooting their own short films and videos.
Introduction 1
Part I: Joining the DSLR Video Revolution 7
Chapter 1: Going from Still to Video in a Single Camera 9
Chapter 2: Exploring DSLR Video Capabilities 23
Chapter 3: Keeping Your Camera Steady 45
Chapter 4: Audio Matters 57
Part II: Control the Camera, Control the Movie  67
Chapter 5: Shooting Video with Your DSLR 69
Chapter 6: Getting Creative with Your Shoot 87
Chapter 7: Breaking Dawn Over Light Sources 111
Chapter 8: BYOL: Bringing Your Own Light 131
Chapter 9: Reigning in the Frame 147
Chapter 10: Making the Most of Audio Capture 161
Part III: Fixing It in Post 173
Chapter 11: Building Your Editing Suite 175
Chapter 12: Getting to Know Adobe Premiere Elements 197
Chapter 13: Making Your Movie 217
Chapter 14: Taking Your Edit to Infinity and Beyond 241
Chapter 15: Presenting Your Movie 253
Chapter 16: Archiving Your Movie Files 267
Part IV: Becoming a Filmmaker 281
Chapter 17: Doing the Preshoot Work 283
Chapter 18: Roles in the Filmmaking Process 299
Chapter 19: Managing the Day of the Shoot and Beyond 313
Chapter 20: Your Red Carpet Premiere Awaits 325
Part V: The Part of Tens 333
Chapter 21: Ten Ways to Improve Your Filmmaking Skills 335
Chapter 22: Ten Steps to Creating a Music Video 345
Chapter 23: Ten Wedding Video Techniques 355
Chapter 24: Ten Tips for Creating a Documentary 363
Index 371
Updates
Please check back here for updates.