Digital Tectonics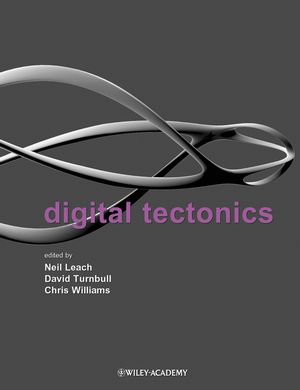 Digital Tectonics
ISBN: 978-0-470-85729-8
Apr 2004
152 pages
Description
The old opposition between a digital culture of sensuous, ephemeral images and a tectonic culture of pragmatic building has given way to a new collaboration between the two domains, a 'digital tectonics'. Computer linked fabrication techniques of many kinds have become an integral part of the design process, while new digital tools are allowing engineers and architects to understand in far more detail the behaviour of load carrying surfaces, and to generate new architectural forms. 

Digital and computer-linked design techniques is one of the hottest topics in architecture and in an ever-expanding world of digital technology this book tackles the practical elements of the field.
Introduction (N. Leach,
et al
.). 
THE STRUCTURAL TURN.
Material Complexity (Manuel De Landa).
Virtual Gaudi (Mark Burry).
Gaudi's Hanging Presence (Mark Goulthorpe (dECOi).
Digital Tectonics : Historical Perspective – Future Prospect (Michael Cook).
SoftOffice & Oblique WTC (Lars Spuybroek (NOX).
The Structure of Ornament (Greg Lynn, Conversation with Neil Leach).
DIGITAL OPERATIONS.
Swarm Tectonics (Neil Leach).
Design by Algorithm (Chris Williams).
Biot(h)ing (Alisa Andrasek).  
Directed Randomness (Kristina Shea).
Towards an Associative Architecture (Bernard Cache).
Lattice Archipelogics (Marcelyn Gow, David Erdman, Chris Perry (SERVO).
Are we ready to Compute? (Michael Hensel (OCEAN North).
NEW DIALOGUES.
Geometry, Algorithm, Pattern (The Serpentine Pavilion 2002 - Toyo Ito & ARUP) (Cecil Balmond).
Live-It/Love-It (The Mercedes-Benz Museum-UN Studio (Ben van Berkel and Caroline Bos).
An Aesthetics of Calculus : Round Table Discussion (chaired by David Turnbull).
Contributor Biographies.
"Divided into three distinct sections, comprising a collection of essays and transcripts by notable architects theorists and engineers?" (
Architecture Australia
, 4/1/2004)
"?gives these ideas extra punch?alluring stuff?" (Building For a Future, January 2004)
??a collection of thought-provoking articles and wonderful illustrations?really reveals the spirit of architecture?? (Building Engineer, August 04)