Dimensions of Managing Academic Affairs in the Community College: New Directions for Community Colleges, Number 109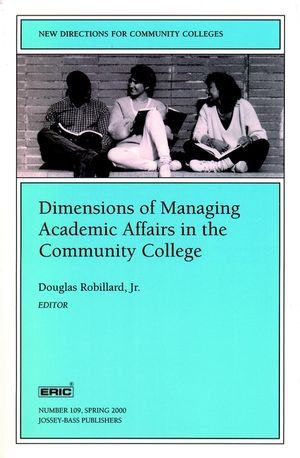 Dimensions of Managing Academic Affairs in the Community College: New Directions for Community Colleges, Number 109
ISBN: 978-0-787-95369-0 May 2000 Jossey-Bass 120 Pages
Description
The contributors to this issue present a variety of strategies to help chief academic officers not only survive but excel while juggling their many and varied responsibilities. They offer seasoned advice on fulfilling the CAO's academic duties, and explore the CAO's faculty and administrative roles, discussing how to balance the sometimes conflicting roles of faculty mentor, advocate, and disciplinarian and the importance of establishing a synergistic working relationship with the president. They show how to resolve typical crises that arise in the course of the CAO's daily duties, and demonstrate how conflict can actually be an opportunity to effect constructive change. The issue also covers the important areas of resource and data management, providing an introduction to resource management concepts and terminology and presenting a case study of an award-winning data-driven decision-making process.

This is the 109th issue of the Jossey-Bass series New Directions for Community Colleges.
Toward a Definition of Deaning (D. Robillard).
The Dean as Chief Academic Officer (J. Erwin).
The Dean and the Faculty (H. Andrews).
The Dean and the President (H. Kuss).
Aspects of Difficult Decisions (G. Findlen).
Conflict: The Skeleton in Academe's Closet (R. Findlen).
Academic Economics: The Academic Dean and Financial Management (S. McBride).
Community College Alchemist: Turniing Data into Information (G. Johnston & S. Kristovich).
Preparing Community College Deans to Lead Change (D. Bragg).
A Dean's Survival Tool Kit (G. Findlen).