Dimensions of the Hospitality Industry, 3rd Edition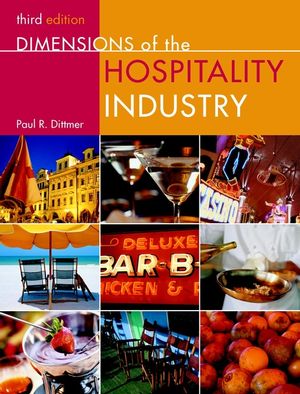 Dimensions of the Hospitality Industry, 3rd Edition
ISBN: 978-0-471-38479-3
Sep 2001
488 pages
Description
Dimensions of the Hospitality Industry, Third Edition, offers students a dynamic and accessible introduction to the broad world of hospitality and tourism. Newly revised and updated, this Third Edition gives students the foundation they need to prepare for managerial careers in this rapidly growing field.

Organized into seven major sections, the book begins with an overview of the hospitality industry and concludes with a discussion of the significant issues facing managers today and in the future. It covers the history of the industry and provides an introduction to the management and operation of the three principal segments: food and beverage; lodging; and travel and tourism.

The book offers focused coverage of each sector within hospitality: food and beverage, lodging, and travel and tourism. examines the size, scope, and operations of each of these key areas and shares essential information on related concepts products, and services. Throughout the text, this Third Edition brings the material out of the classroom and into the real world with a set of powerful new learning tools.
Introduction: Hospitality and Tourism Today: A Career Overview.
* FOUNDATIONS
Hospitality Foundations I: Early Development of the Industry. Hospitality Foundations II: Development of the Industry in the United States.

* FOOD AND BEVERAGE PERSPECTIVES
The Dimensions of Food and Beverage. Food and Beverage Facilities. Food and Beverage Operations.

* LODGING PERSPECTIVES
The Dimensions of Lodging. Lodging Facilities. Lodging Operations.

* HOSPITALITY MANAGEMENT PERSPECTIVES
Hospitality Operations Management.

* TRAVEL AND TOURISM PERSPECTIVES
The Dimensions of Travel and Tourism. Travel Services. Recreation, Entertainment, and Other Tourism Attractions.

* FUTURE PERSPECTIVES
Hospitality and Tourism Tomorrow: An Issues Overview.
Moments of Truth. Case studies that share critical insight into important business issues.
Newsflashes. Excerpts from publications, showing industry-based illustrations of major concepts.
Technology Gateways. Practical tips on making the most of technology on the job
Internet Exercises. A springboard to accessing the best industry-related Web sites New Internet exercises supplement the existing critical thinking exercises and review questions for a strong package of end of chapter assignments.
A separate chapter explains the basics of hospitality management that have applications throughout the industry, with an emphasis on marketing, human resources, accounting, and computer technology.
Provides a broad cross-section of the hospitality industry.