Direct Action and Democracy Today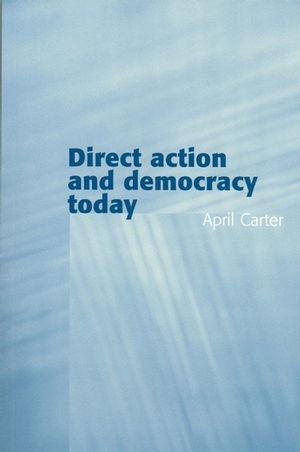 Direct Action and Democracy Today
ISBN: 978-0-745-62935-3 January 2005 Polity 256 Pages
Description
More and more people around the world are protesting to defend their rights, resist injustice or oppose undemocratic rule. In this book, April Carter debates the nature and meaning of such protest and discusses the relationship between direct action and people's claims for greater democratic control, not only against repressive regimes but also in liberal parliamentary states.
The book begins by looking at non-violent direct action in historical context, tracing its evolution from the end of the Second World War to the present day. It examines the association between direct action and the social movements of recent decades and charts its role in the new global movement against neo-liberal economic policies. The second part of the book relates direct action to political theory to ascertain how it fits with theories of liberal, republican and deliberative democracy. It goes on to consider socialist and cosmopolitan approaches to democracy and popular resistance and concludes by looking at the implications of protest politics for current democratic thinking and contemporary world events.

This book will be a valuable resource for students and scholars of international politics and political theory.
Table of contents
Acknowledgements.
Preface.
Chapter One Direct Action: Past and Present.
Part One Liberal States, Global Neoliberalism and Issues of Power.
Chapter Two Violence, Nonviolence and Power: Is Liberal Democracy Nonviolent?.
Chapter Three Democratic Deficit, Civil Society and Social Movements: the Role for Direct Action.
Chapter Four Economic Globalization and Democratic Deficit: The Role of Global Resistance.
Part Two Democratic Theory and the Role of Direct Action.
Chapter Five Liberal Democratic Theory, Direct Action and Globalization.
Chapter Six Participatory Democracy and Direct Action: Republicanism, Deliberative Democracy and Critiques.
Chapter Seven Socialism, Cosmopolitanism and Direct Democracy.
Chapter Eight Democratic Arguments for Direct Action
Reviews
"This book is the place to turn if you want a convenient summary of theoretical debates on deliberative democracy, globalization, liberalism and a host of related topics."

Brian Martin, Journal of Peace Research
"Should be required reading for church leaders, social justice committees and those concerned about the recent trends in Australian politics."
Insights