Direct and Interactive Marketing: New Techniques for Fundraising Success: New Directions for Philanthropic Fundraising, Number 33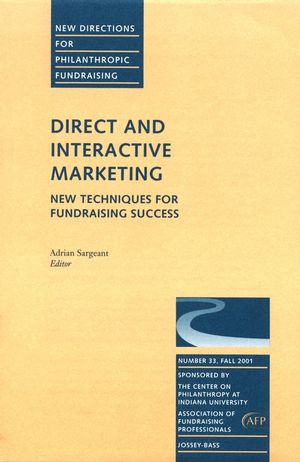 Direct and Interactive Marketing: New Techniques for Fundraising Success: New Directions for Philanthropic Fundraising, Number 33
ISBN: 978-0-787-95832-9 August 2002 Jossey-Bass 98 Pages
Description
Direct and interactive marketing generates around 15% of the voluntary income for U.S.-based nonprofits. Yet despite its significance, this form of fundraising is often overshadowed by the emphasis on major donor gifts. This special issue discusses varied aspects of direct and interactive marketing, its role in generating and building donor relationships, the impact of data protection legislation in Europe and the US, fundraising trends since September 11, and "face-to-face" marketing, an emerging new fundraising medium that successfully attracts a new generation of charity donors. With a focus on strategies in Internet fundraising, and the lessons learned so far, this issue is also an excellent guide to nonprofits investing in technology or expanding their online presence.
Editor's Notes (Adrian Sargeant).
1. Between a rock and a hard place: The Data Protection Act of 1998 and U.K. fundraising practice (Stephen Lee).
2. Getting ahead of the curve with integrated fundraising (Mal Warwick).
3. Fundraising on the Web: Opportunity or hype? (Adrian Sargeant).
4. Cultivating on-line donor relationships through e-mail technology (Merritt J. Olsen, Matthew M. Frazier).
5. Is the donor pyramid dead? (Tony Elischer).
6. The rise-and fall?-of face-to-face fundraising in the United Kingdom (Elaine Jay).
Index.