Disability and Discourse: Analysing Inclusive Conversation with People with Intellectual Disabilities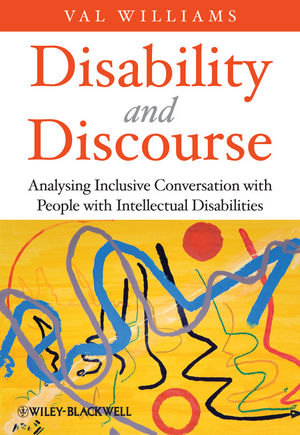 Disability and Discourse: Analysing Inclusive Conversation with People with Intellectual Disabilities
ISBN: 978-1-119-99616-3 March 2011 272 Pages
Description
Disability and Discourse
applies and explains Conversation Analysis (CA), an established methodology for studying communication, to explore what happens during the everyday encounters of people with intellectual disabilities and the other people with whom they interact.
Explores conversations and encounters from the lives of people with intellectual disabilities
Introduces the established methodology of Conversation Analysis, making it accessible and useful to a wide range of students, researchers and practitioners
Adopts a discursive approach which looks at how people with intellectual disabilities use talk in real-life situations, while showing how such talk can be supported and developed
Follows people into the meetings and discussions that take place in self-advocacy and research contexts
Offers insights into how people with learning disabilities can have a voice in their own affairs, in policy-making, and in research
Table of contents
About the Author.
Preface.
Acknowledgements.
1 Starting Points.
2 Some Building Blocks for Analysis.
Part 1 Individual Voices.
3 Challenging Disempowering Patterns of Talk.
4 Supporting Someone to be Competent.
5 Opening up Conversation.
6 Equalising Talk and Friendliness.
7 Doing Autonomy: 'It's entirely up to you'.
8 Public Encounters.
Part 2 Collective Voice.
9 Self-Advocacy Talk: The personal to the political.
10 Supporting People to Speak up in Group Situations.
11 Being Interviewers with the Label of 'Intellectual Disability'.
12 Behind the Scenes in Inclusive Research: 'We are the artists of our lives'.
13 Talk about Labelling and Identity.
14 Reflections on Doing Analysis.
15 Reflections on Change.
Appendix Transcription Conventions.
References.
Index.
Reviews
"This thought-provoking text is aimed at practitioners, those who engage in everyday conversation with individuals with intellectual disabilities and researchers who employ conversation analysis (CA).  This book reminds us that these individuals and their support workers can benefit from engaging in more mindful and reflective practice with regard to everyday discourse."  (British Journal of Learning Disabilities, 7 August 2013)