Disabled Children: Challenging Social Exclusion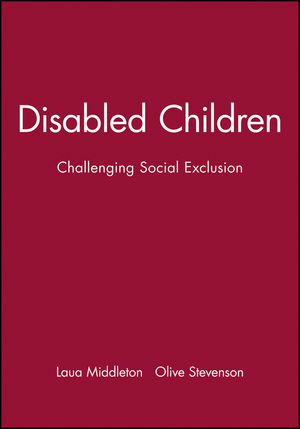 Disabled Children: Challenging Social Exclusion
ISBN: 978-0-632-05055-0 June 1999 Wiley-Blackwell 180 Pages
Download Product Flyer
Download Product Flyer
Download Product Flyer is to download PDF in new tab. This is a dummy description. Download Product Flyer is to download PDF in new tab. This is a dummy description. Download Product Flyer is to download PDF in new tab. This is a dummy description. Download Product Flyer is to download PDF in new tab. This is a dummy description.
Description
There is ample evidence that disabled children are less valued members of society than able-bodied children. Child welfare practitioners are increasingly looking at not only the child's impairment and suffering but also the child's needs in a wider context--to be included as an equal member of society. Laura Middleton's book aims to provide sound guidance for social workers, community carers, teachers and health visitors, and her book gives them a better understanding of the disabled child's experiences and needs. She covers such key themes as discrimination, bullying, appeasement, abuse, communication issues, family support, and children's rights. Methods for generating a better, more effective service for the child are fully explained and illustrated.
Table of contents
Foreword.
Preface..
1. Children's Voices; Hopes, Wishes and Dreams.
Families.
Making Friends.
"It chips away at you inside': the experience of bullying.
Adult Abusers.
Failure to Protect.
Growing up in care: Alice's story.
Education.
Choices and rights.
Medical Interventions.
Images of disability.
Messages.
Discussion: a disability rights issue?.
Ways forward.
Summary and conclusion..
2. Building Disadvantage.
Introduction.
The political lead..
Section I: Abnormalisation - the creation of special need.
Health care services.
Education.
Welfare services.
The independent/statutory divide..
Section II: Explanations for the exclusion of disabled children.
The survival of the fittest.
Conclusion..
3. Conceptual Frameworks.
The SEAwall.
The NVQ model.
The 3-D Jigsaw..
4. The Professional and Personal Challenge.
Introduction.
Attitudes and values.
Working with disabled children.
Changing professional behaviour.
Good practitioners/good practice.
Conclusion..
5. Organisational Change.
Introduction..
Section I: Valued-based organisations.
Consulting service users.
Valuing staff..
Section II: The seamless service.
Community care: health and social services.
working together.
Towards inclusive education.
Conclusion..
6. Disabled Children: Excluded Citizens?.
Introduction.
Disabled children and citizenship.
Strategies for change.
the research relationship.
The role of disabled adults.
Conclusion.
Appendix 1. Research Studies Cited in the text.
Appendix 2. Letter to the Social Exclusion Unit.
Appendix 3. The Process of Assessment.
References.
Index.
Reviews
"This is a well-written and thought-provoking contribution to our understanding of the ways in which disabled children are treated and marginalised in our society. It should be read by all those who work with children, as well as those who have an interest in disability generally." (
Adoption & Fostering
)
"The strength of this book lies in its description of disabled children as active participants in society…This book makes a significant contribution to our knowledge about disabled children's lives." (Health and Social Care in the Community)

"The book makes for compulsive reading once begun and has a clarity of style which makes complex issues accessible. …I would recommend the book to lecturers, practitioners and students within the social care fields and to disabled individuals, their carers and groups who are eager to identify with the political debate which informs their social exclusion" (Child & Family Social Work)

"Any book about disabled children that starts with the experience of disabled young people is doing something right." (Community Care)

"It is particularly useful in making practical suggestions for more inclusive provision and will be an invaluable text for all childcare professionals." (Aslib Book Guide)

"This excellent book is a courageous, cogent and challenging look at how to translate a social model of disability into action."

"[Middleton's] perspective is of tremendous importance for social work practice with children." (British Journal of Social Work)
Features
* fully illustrated with case examples, interviews and accounts from young disabled people
* makes full use of research sources in terms of practice guidance to a multidisciplinary audience