Disasters and Mental Health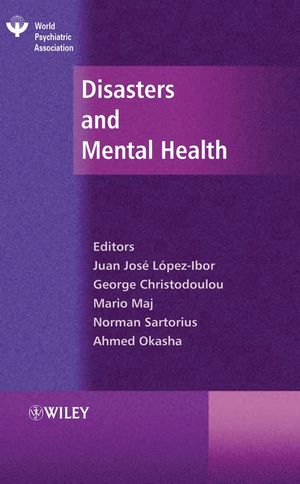 Disasters and Mental Health
ISBN: 978-0-470-02124-8
Jan 2005
288 pages
Description
This title provides a comprehensive overview of clinical, epidemiological, psychobiological, psychosocial and service organization aspects of disaster psychiatry.  It takes a practical approach and includes a series of reports on significant experiences made in this field in various regions of the world. 
An Unbiased and reliable reference point, endorsed by the WPA

Includes contributions from internationally acclaimed experts
List of contributors.
Preface (Lopez-Ibor et al).
1. What is a Disaster? (Lopez-Ibor).
2. Psychological and Psychopathological Consequences of Disasters (Fullerton and Ursano).
3. Psychiatric Morbidity following Disasters: Epidemiology, Risk and Protective Factors (McFarlane).
4. Reevaluating the Link between Disasters and Psychopathology (Yehuda and Bierer).
5. Psychological Interventions for People Exposed to Disasters (Benyakar and Collazo).
6. Organization of Mental Health Services for Disaster Victims (Crocq et al).
Mental Health Consequences of Disasters: Research Reports.
7. The Experience of the Kobe Earthquake (Shinfuku).
8. The Experience of the Marmara Earthquake (Gokalp).
9. The Experience of the Athens Earthquake (Christodoulou et al)
10. The Experience of the Nairobi US Embassy Bombing (Njeng and Nyamai).
11. The Experience of the New York September 11 Terroristic Attack (DeLisi et al).
12. The Experience of the Chernobyl Nuclear Disaster (Havenaar and Bromet).
13. The Experience of the Bhopal Disaster (Murthy).
14. The Latin American and Caribbean Experience (Caldas de Ameida and Rodriguez).
15.  The Israeli Experience (Shalev).
16. The Palestinian Experience (El Sarraj and Qouta).
17. The Experience of Bosnia-Herzegovina: Psychosocial Consequences of War Atrocities on Children (Husain).
18. The Serbian Experience (Lecic-Tosevski and Draganic-Gajic).
19. The Croatian Experience (Folnegovic Smalc).
"…will inform mental health care providers and epidemiologists, as well as those that study and plan disaster response worldwide." (
E-STREAMS
, April 2006)
"Highly recommended to all physicians who practice within the realm of psychological medicine…recommended to Health Science libraries as a general reference text…" (Electric Review, November/December 2005)
"This timely book will help us maximize what we are summoned to bear when disaster inevitably strikes next." (New England Journal of Medicine, August 25, 2005)
"This book offers an excellent source of research in the area…vital for those who prepare prevention and response to local and international crises." (Doody's Health Services)