Discipline-Centered Learning Communities: Creating Connections Among Students, Faculty, and Curricula: New Directions for Teaching and Learning, Number 132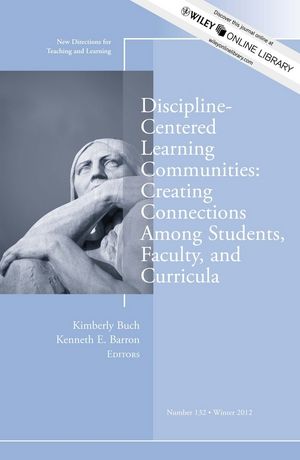 Discipline-Centered Learning Communities: Creating Connections Among Students, Faculty, and Curricula: New Directions for Teaching and Learning, Number 132
ISBN: 978-1-118-51863-2 January 2013 Jossey-Bass 136 Pages
Download Product Flyer
Download Product Flyer
Download Product Flyer is to download PDF in new tab. This is a dummy description. Download Product Flyer is to download PDF in new tab. This is a dummy description. Download Product Flyer is to download PDF in new tab. This is a dummy description. Download Product Flyer is to download PDF in new tab. This is a dummy description.
Description
Take an in depth look at discipline-centered learning communities. Using psychology as an example, this issue provides prescriptive advice for those interested in developing a learning community in any academic discipline or program. Learning communities are a powerful vehicle for creating and sustaining connections among students, faculty, and the curriculum, but creating one can be a challenge. By providing resources, practical case studies, and theoretical grounding, this volume can both inspire and guide faculty, staff, and administrators in meeting their pedagogical and curricular goals.
Learn how the five types of learning communities—based curricularly, residentially, in the classroom, on the students themselves, and even virtually—can be used to enhance student engagement and learning. Illustrating the versatility of the practice across a wide range of settings, student populations, and institutional types, this issue also contains an extensive listing of resources that go beyond disciplinary boundaries and open possibilities for all in higher education. 
This is the 132nd volume of this Jossey-Bass higher education series. New Directions for Teaching and Learning offers a comprehensive range of ideas and techniques for improving college teaching based on the experience of seasoned instructors and the latest findings of educational and psychological researchers.
Table of contents
EDITORS' NOTES 1
Kimberly Buch, Kenneth E. Barron
1. The Growth and Current State of Learning Communities in Higher Education 5
Anne Goodsell Love
Learning communities carry on a tradition of educational reform, resulting in improved student learning outcomes.

2. Curriculum-Based Learning Communities Centered Within a Discipline 19
Mark C. Zrull, Courtney A. Rocheleau, M. Corinne Smith, Shawn M. Bergman
Curriculum-based learning communities centered within a discipline can take on many forms. Through the use of specific institutional examples, this chapter examines three models requiring minimal to
more complex coordination.
3. Transitioning Students Out of College: The Senior LC in Psychology at Wagner College 31
Laurence J. Nolan, Steve M. Jenkins
This chapter describes the senior learning community in psychology at Wagner College, which is an example of a discipline-specifi c curriculum- based learning community (LC). This LC acts both as a capstone to the undergraduate experience and as a transition for students from college to career. We describe the components of the LC, their development, our attempts to integrate them, and how they might be applied in other intradisciplinary LCs.
4. Residential Learning Communities Centered Within a Discipline: The Psychology Early Awareness Program 43
Cheryl N. Grills, Adam W. Fingerhut, Vandana Thadani, Ricardo Arturo Machón
This chapter describes the Psychology Early Awareness Program (PEAP) at Loyola Marymount University, a residential learning community centered within a discipline. We discuss the theory that supports
the value of living-learning communities, describe how this guided the development of PEAP, and summarize the benefi ts of this approach.
5. Creating Learning Communities in the Classroom 57
Bryan K. Saville, Natalie Kerr Lawrence, Krisztina V. Jakobsen
This chapter describes three approaches to creating classroom-based learning communities: interteaching; team-based learning; and cooperative learning in large, lecture-based courses.
6. Using Student-Based Organizations Within a Discipline as a Vehicle to Create Learning Communities 71
Michael D. Hall
Student-based organizations offer another approach to promote learning communities above and beyond particular curricular or classroom approaches. Not only can they create connections among students with shared disciplinary or professional interests on a single campus, but they also offer the possibility for creating connections to larger communities beyond an institution.
7. Virtual Learning Communities Centered Within a Discipline: Future Directions 85
Anita L. Blanchard, James R. Cook
Virtual learning communities (VLCs) provide a new vehicle for creating connections among stakeholders within academic disciplines and departments. This chapter describes the innovative use of information
and computer technology (ICT) to create VLCs that can extend and enhance the impact of the traditional face-to-face learning communities described in preceding chapters.
8. The Evolution of Learning Communities: A Retrospective 99
Roberta S. Matthews, Barbara Leigh Smith, Jean MacGregor
In 1990, the current authors with Faith Gabelnick authored their first book about learning community initiatives, which has gone on to become one of the most widely cited volumes in the New Directions
for Teaching and Learning series. In this chapter, they refl ect on the developments and evolution of learning communities since that time, including their reflections on each chapter from the present volume.
INDEX 113
APPENDIX 121