Discourse and Social Change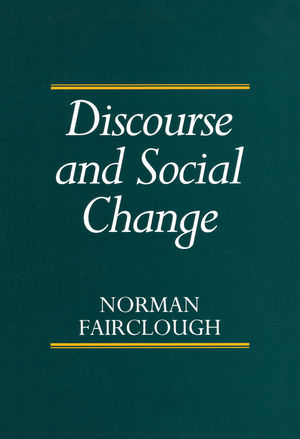 Discourse and Social Change
ISBN: 978-0-745-61218-8 June 1993 Polity 272 Pages
Description
Now available in paperback, this book is a critical introduction to discourse analysis as it is practised in a variety of different disciplines today, from linguistics and sociolinguistics to sociology and cultural studies. The author shows how concern with the analysis of discourse can be combined, in a systematic and fruitful way, with an interest in broader problems of social analysis and social change.
Fairclough provides a concise and critical review of the methods and results of discourse analysis, discussing the descriptive work of linguists and conversation analysts as well as the more historically and theoretically oriented work of Michel Foucault. He develops an original framework for discourse analysis which firmly situates discourse in a broader context of social relations bringing together text analysis, the analysis of processes of text production and interpretation, and the social analysis of discourse events.
Table of contents
Preface.
Introduction.
1. Approaches to Discourse Analysis.
2. Michel Foucault and the Analysis of Discourse.
3. A Social Theory of Discourse.
4. Intertextuality.
5. Text Analysis: Constructing Social Relations.
6. Text Analysis: Constructing Social Reality.
7. Discourse and Social Change in Contemporary Society.
8. Doing Discourse Analysis.
References.
Index.
Reviews
'Norman Fairclough's new book presents an original argument for a critical, text-oriented form of discourse analysis. He writes in an admirably lucid way about some very complex issues. It is a book to which those interested in the critical analysis of discourse and ideology should pay close attention. Moreover, students will benefit from the clearly presented examples, which Fairclough uses to show the methods of critical discourse analysis.'
Michael Billig, Temple University
'This book is an excellent example of applied linguistics: acute observations and analyses of changing language use in the real social world - one of the few attempts to show the systematic relation between texts and institutions.' Michael Stubbs, University of Trier
'Fairclough has a sophisticated linguistic analysis and an explicit political agenda. Fairclough has written a strong book. He is clear and honest about his motivations, and straightforward in his findings. For these reasons alone, the book deserves wide reading, but all the more so because the author has combined his scholarly and pedagogical purposes well in this very readable and useful work.' Language in Society
'Fairclough makes an important contribution... [his] book demonstrates the value of an analytical and theoretical project which is able to generate explicit models of the social and discursive provess which characterise this phase of restructuring.' Social Semiotics
Features
* Fully up-to-date, this book is a unique attempt to combine social theory and linguistics.
* The author offers an original approach to the analyses of discourse and shows how it can be combined with a theory of political/ideological hegemony.
* The book includes many specific and up-to-date examples which demonstrate the usefulness of Fairclough's approach.