Discourses of Power: From Hobbes to Foucault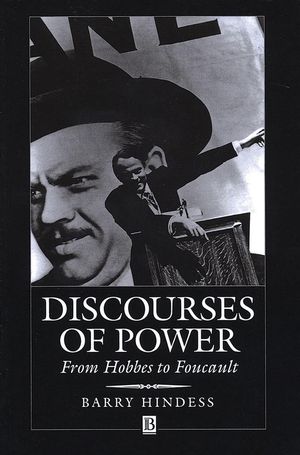 Discourses of Power: From Hobbes to Foucault
ISBN: 978-0-631-19093-6 January 1996 Wiley-Blackwell 192 Pages
Download Product Flyer
Download Product Flyer
Download Product Flyer is to download PDF in new tab. This is a dummy description. Download Product Flyer is to download PDF in new tab. This is a dummy description. Download Product Flyer is to download PDF in new tab. This is a dummy description. Download Product Flyer is to download PDF in new tab. This is a dummy description.
Description
In this accessible yet provocative text Barry Hindess provides a new interpretation of concepts of power within Western social thought, from Hobbes' notion of "sovereign power" to Foucault's account of "government". This book will be welcomed as an important contemporary contribution to one of the key debates in social and political theory.
Table of contents
Acknowledgements.
1. Introduction.
2. That Mortal God: Hobbes on Power and the Sovereign.
3. A Right of Making Laws: Locke on Political Power and Morality.
4. The Supreme Exercise of Power: Lukes and Critical Theory.
5. Discipline and Cherish: Foucault on Power, Government and Domination.
6. Conclusion.
Notes.
References.
Index.
Reviews
"The combination of impeccable scholarship and original insight makes this book indispensable to all who wish to explore the complex field of modern power. Through bold and invigorating investigations of the central texts of modern political thought, Barry Hindess uncovers their conceptual anatomy and reveals the pervasive implications of flawed understandings of power from Locke to contemporary liberalism and critical theory. Through a lucid exploration of the arguments of Michel Foucault, Hindess poses us urgent and challenging questions about how one might think beyond these limited visions of political sovereignty and political community."
Nikolas Rose, Professor of Sociology, Goldsmith's College, University of London
"Barry Hindess has crafted an elegant and incisive guide to the debates about power set in motion by Michel Foucault. He offers both a clear account of what is at stake in these debates and a sharp critical sense of how they could develop." Professor R. B. J. Walker, Department of Political Science, University of Victoria
"With this book, Barry Hindess sets new parameters for any future discourses on power. He unravels the confusion of power as capacity and power as right which has dogged modern political theory from Hobbes and Locke onwards, and sets out clearly the presuppositions of contemporary theories of power. On this basis, he is able to locate Foucault squarely in the mainstream of modern political thought, and to demonstrate the radicality of his attempts to refocus the analysis of power onto the nature and forms of government. In a brief concluding chapter, Hindess sums up both the strengths and limits of Foucault's challenge to political theory, and points to the fictions of political community as constraints upon political thought which remain to be critically examined. A model of clear and effective writing, this book should be read by all students of political and social thought." Paul Patton, Senior Lecturer in Philisophy, The University of Sydney
"This book is a provocative and important contribution to the debate on power, written in a lucid and succinct style." Paul Rutherford, The University of Sydney
"Hindess is relaxed and labyrinthine, supplying an engaging introduction to the debate [of the concepts of power], which students especially will enjoy." Preston King, University of Lancaster
Features
* Fresh, accessible introduction to one of key themes in social and political theory.
* Author is senior and widely respected political sociologist.
* Examines the work of established thinkers, to then put forward his own provocative new theory.