Discovering Microsoft Office 2013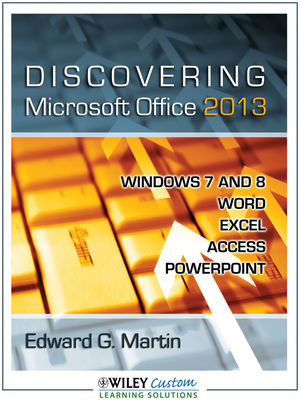 Discovering Microsoft Office 2013
ISBN: 978-1-118-65287-9
May 2013
352 pages
Description
A concise, reasonably priced introductory text for one-semester courses that teaches computer applications, specifically Microsoft Office 2013. The manual has been streamlined over the years to better help students learn the basics of microcomputer hardware, Microsoft Windows, and Microsoft Office.

About the Author:
Dr. Edward Martin is a Business Professor and Department Chairman in the City University of New York. He teaches introductory computer concepts and advanced microcomputer applications, and has been a systems administrator, faculty trainer, and consultant. He has written more than seventy-five books on computer use including the Mastering Today's Software series and Discovering series (now in its 16th edition).
•Brief yet comprehensive lab-based introduction to computers, Windows XP, Vista, and Office 2013 suite software.
•Thoroughly field-tested. Over 20 years, thousands of students, educators, and administrators have used previous editions and have offered helpful comments about each skill and explanation.
•Very easy to follow tutorials that quickly take students from raw beginners to confident users.
•Quick reviews, practice sheets, and command summaries throughout.
•Fifteen projects for each program allow students to test their skills.
•Independent modules make it easy to present software in any order.
•Updated to cover Microsoft Office 2013.