Discovering Physical Geography, 3rd Edition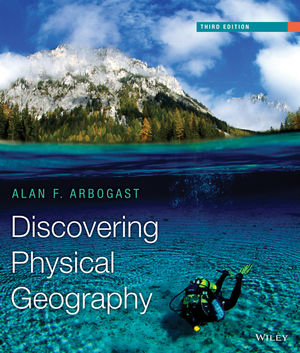 Discovering Physical Geography, 3rd Edition
Description
Arbogast's Discovering Physical Geography, 3rd Edition provides a comprehensive suite of animations, simulations, and interactivities that help readers comprehend important Earth processes and provide an easy-to-use solution to course needs. The Third Edition continues to place great emphasis on how relevant physically geography is to each reader's life. With an enhanced focus on the interconnections between humans and their environment, this text includes increased coverage of population growth and its impact on the environment. Updated case studies are included, as well as new sections dealing with human interactions with solar energy, wind power, soils, and petroleum. This text is welcoming, taking readers on a tour of "discovery", and delivers content that is sound and based on the most current scientific research
Chapter 1: Introduction to Physical Geography
Chapter 2: The Geographers' Tools
Chapter 3: Earth-Sun Geometry and the Seasons
Chapter 4: The Global Energy System
Chapter 5: Global Temperature Patterns
Chapter 6: Atmospheric Pressure, Wind, and Global Circulation
Chapter 7: Atmospheric Moisture and Precipitation
Chapter 8: Air Masses and Cyclonic Weather Systems
Chapter 9: Global Climates and Global Climate Change
Chapter 10: Plant Geography
Chapter 11: The Global Distribution and Character of Soils
Chapter 12: Earth's Internal Structure, Rock Cycle, and Geologic Time
Chapter 13: Tectonic Processes and Landforms
Chapter 14: Weathering and Mass Movements
Chapter 15: Groundwater and Karst Landscapes
Chapter 16: Fluvial Systems and Landforms
Chapter 17: Glacial Geomorphology: Processes and Landforms
Chapter 18: Arid Landscapes and Eolian Processes
Chapter 19: Coastal Processes and Landforms
Chapter 20: Population Growth and Environmental Impacts
Enhanced focus on the interconnections between humans and their environment, with increased coverage of population growth and its impact.
Substantially reorganized climate chapter to make room for coverage of global climate change.
Strengthened content dealing with human interactions with solar energy, wind power, soils and petroleum.
All chapters are now organized around learning objectives.
Key Concepts to Remember: An interim summary feature that appears after specific sections of the chapter are covered.          
Visual Concept Check: Offers a scenario with questions and illustrations to test students understanding as they proceed through the chapter.    
Locator maps: Critical photographs are accompanied by a small map indicating the location of the site shown.   
Marginal glossary: Contains key terms are set in boldface type in the text and defined in the margin for easy recognition and reference.
Check Your Understanding: Self-assessment questions, with illustrations to aid recall.
What the Geographer Sees: Shows students how geographers interpret landscapes through "more than meets the eye" photos.