Discovering Physical Geography, Enhanced eText, 4th Edition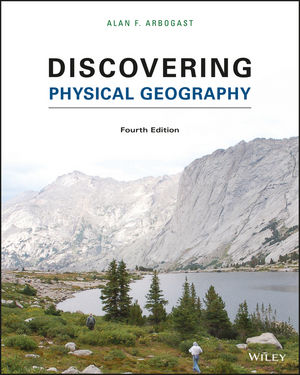 Discovering Physical Geography, Enhanced eText, 4th Edition
ISBN: 978-1-119-32124-8
Feb 2017
552 pages
Description
With Wiley's Enhanced E-Text, you get all the benefits of a downloadable, reflowable eBook with added resources to make your study time more effective, including:

• Visual Concept Checks
• Imbedded Glossary with clickable references & key words
• Show & Hide Solutions with automatic feedback

Arbogast's Discovering Physical Geography, 4th Edition provides interactive questions that help readers comprehend important Earth processes. The Fourth Edition continues to place great emphasis on how relevant physical geography is to each reader's life. With an enhanced focus on the interconnections between humans and their environment, this text includes increased coverage of population growth and its impact on the environment. Updated case studies are included, as well as new sections dealing with human interactions with solar energy, wind power, soils, and petroleum. This text is welcoming, taking readers on a tour of "discovery", and delivers content that is sound and based on the most current scientific research.
Available as an Enhanced E-Pub, the 4th edition offers an affordable alternative to traditional e-textbooks. With an Enhanced E-Pub, students can take notes, comment on topics, play videos and animations, and check their understanding through self-practice questions. Students can also read anywhere on multiple devices, with or without an internet connection.
Updated and expanded content around important and timely topics such as El Niño, recent US droughts, and global warming.
Streamlined text updates, which make reading easier to navigate and more efficient.
Important Concepts to Remember: An interim summary feature that appears after specific sections of the chapter are covered.
Visual Concept Check: Offers a scenario with questions and illustrations to test students understanding as they proceed through the chapter.
Locator maps: Critical photographs are accompanied by a small map indicating the location of the site shown.
Marginal glossary: Contains key terms are set in boldface type in the text and defined in the margin for easy recognition and reference.
Check Your Understanding: Self-assessment questions, with illustrations to aid recall.
What the Geographer Sees: Shows students how geographers interpret landscapes through "more than meets the eye" photos.