Discovering Speech, Words, and Mind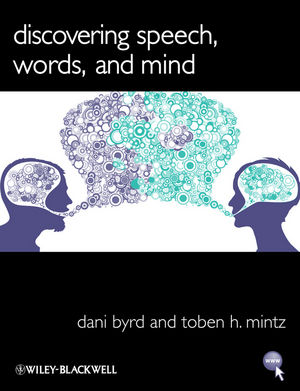 Discovering Speech, Words, and Mind
ISBN: 978-1-405-15798-8
Apr 2010, Wiley-Blackwell
320 pages
Description
Written in a lively style, Discovering Speech, Words, and Mind applies a scientific approach to the study of various aspects of speech, using everyday examples to introduce the beginning student to the world of language and cognition.
An accessible introduction to the fundamentals of speech production, speech perception, word-formation, language acquisition and speech disorders
Considers how the informational content of the speech signal relates to phonological units – connecting the three areas of speech, words, and mind
Focuses on speech production and recognition at the word-level and below, and includes sign languages
Written in a highly accessible style for students with no background in linguistics or psychology
Packed with numerous student-friendly features, including engaging examples, illustrations, and sidebars for further discussion; further online exercises and data also available at http://www.discoveringspeech.wiley.com/
1 Human Language as a Scientific Phenomenon.
The specialness of language.
The study of language as a cognitive science.
2 Speaking, Sound, and Hearing.
Speaking and transcribing.
The sound of speech.
Hearing.
3 Phonetic Diversity in the World's Languages and Diversity Among Dialects of English.
The sounds of the world's languages.
English in the United States and around the world.
4 Introduction to Experimental Design.
5 Speech Perception.
The lack of invariance and the use of cues in speech perception.
Ways in which speech perception might be special.
Discovering words.
6 Word Recognition.
7 Phonological Units and Phonological Patterning.
8 Word Form and Function.
9 Sign Languages.
10 Language and the Brain.
11 Language, Speech, and Hearing Disorders.
12 Reading and Dyslexia.
Appendix: IPA Chart.
Index.
"Captivating a broader audience with the wonder and importance of speech for understanding language is a difficult undertaking. In this beautifully written and illustrated book, Byrd and Mintz do just that … In this engaging and highly readable book, the reader learns to appreciate the complexity and beauty of language, and to think scientifically about it. A daunting amount of information is presented, but in such a coherent and engaging fashion that the facts support one another, creating a well-woven tapestry that hangs together … Given the writing quality, it is a book I would recommend even for those who are not enrolled in a formal class."  Language (March 2012)
"I recommend this textbook for its cogent exposition of important and foundational findings in psycholinguistics and for connecting theoretical and empirical aspects in the study of language in a compelling discussion." 
Linguist
 (February 2011)
An accessible introduction to the fundamentals of speech production, speech perception, word-formation, language acquisition and speech disorders
Examines language as a cognitive science, applying scientific tools to the study of various aspects of speech
Considers how the informational content of the speech signal relates to phonological units – connecting the three areas of speech, words, and mind
Focuses on speech production and recognition at the word-level and below, exploring morphological, phonological, and phonetic perspectives
Packed with numerous student-friendly features, including engaging examples, illustrations, and sidebars for further discussion; and supported by a website featuring additional online exercises and data