Discrimination of Chiral Compounds Using NMR Spectroscopy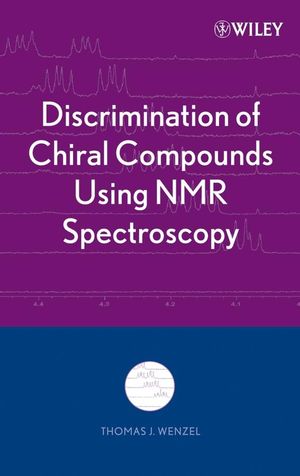 Discrimination of Chiral Compounds Using NMR Spectroscopy
ISBN: 978-0-471-76352-9 April 2007 576 Pages
Description
A comprehensive overview of the use of NMR spectroscopy for chiral discrimination

Discrimination of Chiral Compounds Using NMR Spectroscopy concisely covers the broad array of reagents that make it possible to determine the optical purity and assign the absolute configuration of many classes of compounds. It describes chiral NMR derivatizing agents, solvating agents, metal-based reagents, and liquid crystals and discusses the range and types of compounds for which they can be used for analysis. After an overview of chiral reagents and methodologies, this reference:
*

Includes comprehensive coverage of the chiral reagents that have been reported
*

Catalogs the range of compounds for which different reagents have been shown to be effective
*

Includes specialty categories such as liquid crystals, ionic liquids, and the formation of chiral aggregates from achiral building blocks that do not fit into the broader categories
*

Offers experimental strategies for using the reagents that are likely to improve the quality of the results

This guide describes the various systems and their overall utility, but goes further to show the full scope of the field as a way of guiding investigations into the optimal chiral reagents for use in NMR spectroscopy. It's a practical reference for organic chemists in the pharmaceutical industry, academia, and other areas, NMR spectroscopists, and researchers involved in the isolation and structure determination of natural products.
Table of contents
Chapter 1. Introduction.
Chapter 2. Aryl-containing Carboxylic Acids.
Chapter 3. Other Carboxylic Acid-Based Reagents.
Chapter 4. Hydroxyl- and Thiol-Containing Reagents.
Chapter 5. Amine-based Reagents.
Chapter 6. Miscellaneous Organic-Based Chiral Derivatizing and Solvating Agents.
Chapter 7. Reagents Incorporating Phosphorus, Selenium, Boron, and Silicon Atoms.
Chapter 8. Host Compounds as Chiral NMR Discriminating Agents.
Chapter 9. Chiral Discrimination with Metal-Based Reagents.
Chapter 10. Chiral NMR Discrimination with Highly Ordered Systems.
Reviews
"…a foremost literature resource for NMR-based enantiodiscrimination." (Journal of Medicinal Chemistry, October 18, 2007)