Discursive Practice in Language Learning and Teaching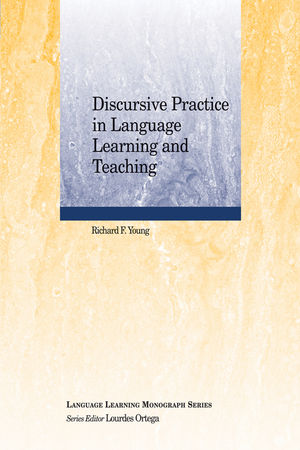 Discursive Practice in Language Learning and Teaching
ISBN: 978-1-405-18444-1 March 2009 Wiley-Blackwell 280 Pages
Description
Discursive Practice is a theory of the linguistic and socio-cultural characteristics of recurring episodes of face-to-face interaction; episodes that have social and cultural significance to a community of speakers. This book examines the discursive practice approach to language-in-interaction, explicating the consequences of grounding language use and language learning in a view of social realities as discursively constructed, of meanings as negotiated through interaction, of the context-bound nature of discourse, and of discourse as social action. The book also addresses how participants' abilities in a specific discursive practice may be learned, taught, and assessed.
1. What is Discursive Practice?.
2. Foundations for the Study of Practice.
3. Investigating Context.
4. Discursive Resources.
5. Language Learning and Discursive Practice.
6. Contexts of Teaching and Testing.
7. Prospects for Practice
"In this he has succeeded, and for this reason the book would be a valuable addition to the libraries of teachers interested in theoretical concerns that underlie teaching practice."  (JALT Journal, 1 November 2012) 
"Particularly appreciated may be the care with which he locates this scholarship within broader intellectual histories, outlining major debates in the field, and making suggestions for interested readers about where to go for further study."  (Applied Linguistics, 30 November 2012)
"This book has two major strengths. First, Young argues for the importance of con¬text in the study of language learning and teaching. Second, he provides a useful review of the development of approaches to the understanding of language in context." (Discourse Studies, 2011)
"On the whole, the book works extremely well as an introduction to discourse practice. It provides compelling arguments for its use as a tool for analysing language in use." (Linguist, October 2010)"Richard Young's book provides a wonderfully comprehensive account of discursive practices and social context in second language acquisition that synthesizes important theoretical and empirical insights from sociolinguistics, sociocultural theory, systemic functional grammar, and conversation analysis. This is a must read!" (Numa Markee, University of Illinois at Urbana-Champaign)


Examines the theory of discursive practice: the linguistic and socio-cultural characteristics of recurring episodes of face-to-face interaction that have social and cultural significance to a community of speakers


Considers the discursive practice approach to language-in-interaction, clearly explaining the consequences of using this theory - of meanings negotiated through interaction, of the context-bound nature of discourse, and of discourse as social action


Explores how participants' abilities in a specific discursive practice may be learned, taught, and assessed