Discussing the Undiscussable: A Guide to Overcoming Defensive Routines in the Workplace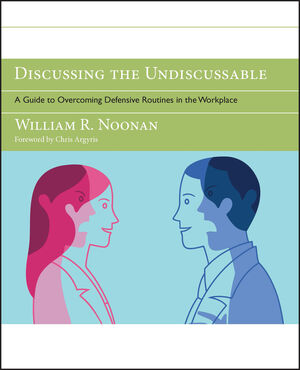 Discussing the Undiscussable: A Guide to Overcoming Defensive Routines in the Workplace
ISBN: 978-1-118-42984-6
Jun 2012, Jossey-Bass
288 pages
Description
Since his 1990 landmark book Overcoming Organizational Defenses, Chris Argyris has extensively researched and written about how well-meaning, smart people create vicious cycles of defensive behavior to protect themselves from embarrassment and threat. In Discussing the Undiscussable, Bill Noonan enlivens the scholarly work of Chris Argyris through the use of reflective exercises and easy-to-read chapters that illuminate the basic human experience endemic to the creation of defensive routines. This book offers hope for altering organizational defensive routines by leveraging the greatest opportunity for change—the way we think and act.

Discussing the Undiscussable provides a set of practical "how to do" exercises for detecting, surfacing, and discussing organizational defensive routines in a safe and productive way. The combination of text, business fable, and interactive and reflective exercises is versatile in its application to both individuals and groups. The companion DVD contains video vignettes of the book's business fable where the actors model both defensive routines and virtuous cycles of behavior. Readers will instantly recognize what has long been going on in the workplace, and will be able to develop the skills to talk about it productively. 

 
Foreword by Chris Argyris.
Acknowledgments.
About the Author.
PART ONE: DEFINING DEFENSIVE ROUTINES.
1. Framing the Issue: The Work of Chris Argyris.
2. The Foundational Skill Set.
PART TWO: MARK, BRENDA, YOU, AND ME: BRINGING DEFENSIVE ROUTINES ABOUT AND KEEPING THEM IN PLACE.
3. Conditions of Threat and Embarrassment: Fix It Now or Fix It Later, Scene One: The Bad News.
4. Being in Control: Fix It Now or Fix It Later, Scene Two: The Word Gets Out.
5. Bypass Tactics and Covering Up: Fix It Now or Fix It Later, Scene Three: Being Nice.
PART THREE: DISCUSSING THE UNDISCUSSABLE.
6. Strategic Interventions: Interviews and Mapping.
7. The De-Escalation: Fix It Now or Fix It Later: Mark and Brenda Reflect.
8. Engaging Differences.
9. Key Thought Enablers.
PART FOUR: STAYING ON THE PATH OF LEARNING.
10. Mistakes, Continuous Learning, and Progress.
11. Helping Those Who Teach, Learn.
Conclusion.
Appendix A: Mapping Templates.
Appendix B: Strategies for Case Study Groups.
Bibliography.
Index.
How to Use the DVD.