Disease Mapping and Risk Assessment for Public Health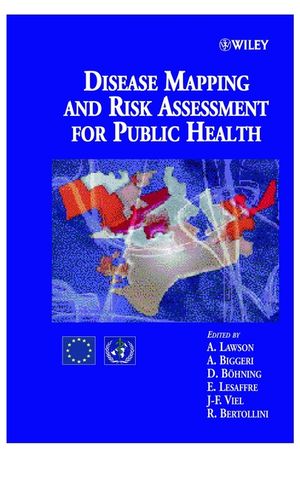 Disease Mapping and Risk Assessment for Public Health
ISBN: 978-0-471-98634-8
Jul 1999
502 pages
Description
Offers an in-depth report on advanced statistical tools for public health disease surveillance, which is the result of a prestigious World Health Organisation (WHO) and EU Biomed programme initiative. Traditionally, the role of public health disease surveillance has been to identify and evaluate morbidity and mortality but increasingly, more sophisticated methods are being applied as the authorities extend their studies to include control and prevention of disease. This book brings together leading experts to discuss complex methodologies for the statistical evaluation of disease mapping and risk assessment. It includes a broad variety of statistical techniques and where appropriate, examples are included on topical issues such as the analysis of putative health hazards. For easy reference the text is presented in five distinct sections, each with an introductory review:

* Disease Mapping

* Clustering of Disesase

* Ecological Analysis

* Risk Assessment for Putative Sources of Hazard

* Public Health Applications and Case Studies

Representative of the most pertinent issues within disease surveillance and mapping, this book will provide an accessible overview for statisticians and epidemiologists.
DISEASE MAPPING.
Disease Mapping and Its Uses.
Disease Mapping with Hidden Structures Using Mixture Models.
CLUSTERING OF DISEASE.
Inference for Extremes in Disease Mapping.
Edge Effects in Disease Mapping.
Empirical Studies of Cluster Detection—Different Cluster Tests in Application to German Cancer Maps.
ECOLOGICAL ANALYSIS.
Introduction to Spatial Models in Ecological Analysis.
Multilevel Modelling of Area-Based Health Data.
RISK ASSESSMENT FOR PUTATIVE SOURCES OF HAZARD.
A Review of Modelling Approaches in Health Risk Assessment around Putative Sources.
Lung Cancer Near Point Emission Sources.
PUBLIC HEALTH APPLICATIONS AND CASE STUDIES.
Environmental Epidemiology, Public Health Advocacy and Policy.
The Character and the Public Health Implications of Ecological Analyses.
Estimating the Presence and the Degree of Heterogeneity of Disease Rates.
Ecological Regression with Errors in Covariates: An Application.
Lung Cancer Mortality in Women in Germany 1995: A Case Study in Disease Mapping.
Appendix.
Index.
"…full of rich ideas and methods that are useful..." (
Journal of Statistical Computation and Simulation
, April 2005)
"...sure to be an essential reference for anyone working in this area" (ISCB Newsletter, December 2000)