Disease Surveillance: A Public Health Informatics Approach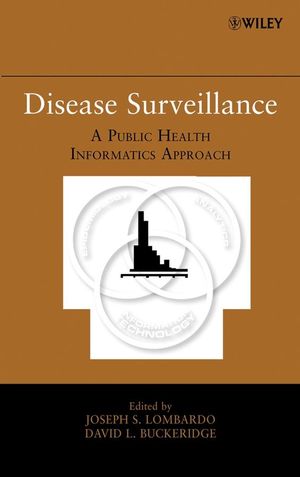 Disease Surveillance: A Public Health Informatics Approach
ISBN: 978-0-470-06812-0 April 2007 488 Pages
Description
An up-to-date and comprehensive treatment of biosurveillance techniques

With the worldwide awareness of bioterrorism and drug-resistant infectious diseases, the need for surveillance systems to accurately detect emerging epidemicsis essential for maintaining global safety. Responding to these issues, Disease Surveillance brings together fifteen eminent researchers in the fields of medicine, epidemiology, biostatistics, and medical informatics to define the necessary elements of an effective disease surveillance program, including research, development, implementation, and operations. The surveillance systems and techniques presented in the text are designed to best utilize modern technology, manage emerging public health threats, and adapt to environmental changes.

Following a historical overview detailing the need for disease surveillance systems, the text is divided into the following three parts:
Part One sets forth the informatics knowledge needed to implement a disease surveillance system, including a discussion of data sources currently used in syndromic surveillance systems.

Part Two provides case studies of modern disease surveillance systems, including cases that highlight implementation and operational difficulties as well as the successes experienced by health departments in the United States, Canada, Europe, and Asia.

Part Three addresses practical issues concerning the evaluation of disease surveillance systems and the education of future informatics and disease surveillance practitioners. It also assesses how future technology will shape the field of disease surveillance.
This book's multidisciplinary approach is ideal for public health professionals who need to understand all the facets within a disease surveillance program and implement the technology needed to support surveillance activities. An outline of the components needed for a successful disease surveillance system combined with extensive use of case studies makes this book well-suited as a textbook for public health informatics courses
1. Disease Surveillance (J. Lombardo & D. Ross).
2. Understanding the Data (S. Babin, et al.).
3. Obtaining the Data (R. Wojcik, et al.).
4. Alerting Algorithms for Biosurveillance (H. Burkom).
5. Putting It Together (L. Hauenstein, et al.).
6. Modern Disease Surveillance (S. Lewis, et al.).
7. Canadian Applications (J. Aramini & S. Mukhi).
8. Telehealth in England and Wales (D. Cooper).
9. EWORS amd Alerta DISAMAR (J. Chretien, et al.).
10. Evaulating Automated Surveillance Systems (D. Buckeridge, et al.).
11. Educating the Workforce (H. Lehmann).
12. The Road Ahead (J. Lombardo).
Index.
"The book is especially valuable for anyone interested in automated disease surveillance because of its broad scope addressing all issues related to developing and operating automated disease surveillance systems." (
Biometrics
, June 2009 )
""This book is essential reading for those learning about public health disease surveillance and for statisticians working with public health professional to improve the sensitivity, specificity, timeliness and cost-effectiveness of current surveillance systems."" (Journal of the American Statistical Association, June 2008)
""…creates a roadmap for scientists to follow…"" (Electric Review, June/July 2007)