Diseases of Domestic Guinea Pigs, 2nd Edition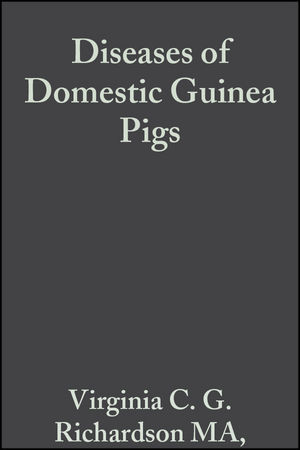 Diseases of Domestic Guinea Pigs, 2nd Edition
ISBN: 978-1-118-25034-1 October 2011 Wiley-Blackwell 152 Pages
Description
This book provides a comprehensive text covering all aspects of guinea pig medicine. This updated edition will be of value to veterinary surgeons and students, veterinary nurses, breeders and all those working in the animal care industry. Written in note form the book assists in the formulation of a diagnostic plan when the practitioner is faced with a sick animal. Sections on clinical signs, diagnoses and treatments, allow rapid reference in successive chapters on the reproductive, digestive, respiratory, musculoskeletal and urinary systems, the skin, head and neck, nervous system and husbandry.
All the latest drug information has been included and full details of dose rates, contraindications and components of the proprietary preparations are listed in chapter 11. A new chapter has been written providing information on herbal and homeopathic remedies.
Table of contents
Preface.
.
1. The Skin.
Specific skin Conditions..
2. The Reproductive System.
Anatomy.
Reproductive physiology.
Pregnancy.
Infertility..
3. The Urinary System.
Anatomy.
Physiology.
Symptoms of urinary tract disorders..
4. The Respiratory System.
Anatomy and physiology.
Symptoms of respiratory disorders.
Respiratory infections..
5. The Digestive System.
Anatomy.
Physiology..
6. The Musculoskeletal System.
7. The Head and Neck.
The Eye.
The ear.
The mouth.
The Neck..
8. Behaviour and the Central Nervous System.
9. Husbandry.
Housing.
Nutrition..
10. Anaesthetics and Surgical Preparations.
Inhalation anaesthetics.
Injectable anaesthetics..
11. Treatments.
Antibiotics.
Probiotics.
Fluid therapy.
Anti-fungal agents.
Anti-diarrhoeal preparations.
Topical preparations.
Eye preparations.
Ectoparasitic preparations.
Endoparasitic preparations.
Miscellaneous treatments.
Vitamin preparations.
Cleansing solutions..
12. Alternative Therapies.
Homeopathy.
Common homeopathic remedies.
Herbal remedies.
Medicinal plants..
13. Zoonotic Aspects.
Appendix 1: Miscellaneous Physiological Data.
Appendix 2. Summary of Herbal and Homeopathic Remedies and their Uses.
Further Reading.
Index.
Reviews
3 Star rating from Doody's - www.doody.com
What's New
* updated with the latest drug information
* new material on alternative remedies
* still the only book that deals solely with guinea pigs
* of interest to the veterinary professional and breeders alike