Diseases of the Goat, 3rd Edition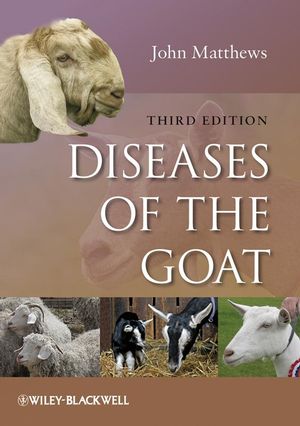 Diseases of the Goat, 3rd Edition
ISBN: 978-1-444-35803-2 September 2011 Wiley-Blackwell 448 Pages
Description
Diseases of the Goat
has become well established as a truly invaluable tool for veterinarians. It is a highly practical, concise handbook for frequent reference. The book covers all aspects of goat medicine, from assessment and examination, to diagnosis, treatment and control of conditions. This new edition has been updated and extended, in particular to incorporate the impact of recent developments, such as the geographical spread of diseases into new regions.
There are new chapters on the Geriatric Goat; Inadequate Growth Rate; Biosecurity and Herd Health in order to reflect changes in current concerns and practice and there is also extended and updated material included on surgical techniques and anaesthesia. This edition now includes a section with colour photographs in order to assist diagnosis.
Table of contents
Preface to Third Edition xi
Preface to Second Edition xii
Preface to First Edition xiii
Acknowledgements xiv
Author's Note xiv
1 Female Infertility 1
2 Abortion 23
3 Male Infertility 42
4 Periparturient Problems 50
5 Weak Kids 62
6 Inadequate Growth Rate 75
7 Lameness in Adult Goats 87
8 Lameness in Kids 112
9 Chronic Weight Loss 123
10 External Swellings 148
11 Skin Disease 164
12 Nervous Diseases 180
13 Diseases of the Mammary Gland 213
14 Diarrhoea 236
15 Colic 268
16 Abdominal Distension 290
Adult goats 291
Kids from birth to 1 week old 295
Older kids 295
17 Respiratory Disease 298
18 Anaemia 313
19 Sudden Death 323
20 Eye Disease 327
21 Plant Poisoning 332
22 The Geriatric Goat 340
23 Herd Health and Biosecurity 345
24 Anaesthesia 354
25 Disbudding and Dehorning 372
26 Surgical Techniques 379
Appendix 1: The Normal Goat 397
Appendix 2: Drug Dosages 402
Appendix 3: Diagnostic Reference Charts 412
Appendix 4: Notifi able Diseases in the UK 416
Further Reading 417
Index 419
Colour plate section follows page 242
Reviews
"John Matthews has distilled into this convenient book years of experience." (
The Veterinary Record
, November 2009)
"A comprehensive and practical book. The chapters are well organized, and the format is concise and practitioner friendly.  There are so many pearls of wisdom throughout this book that even veterinarians with years of caprine practice experience will discover new and applicable information. This book is compact and in paperback form, which makes it equally useful in a practice truck as in an office. The text has superb appendices on reference ranges for physical examinations of clinically normal animals, laboratory valuees, and medication dosages. I highly recommend this textbook to veterinarians who have an interest in small ruminant practice." (Journal of the American Veterinary Medical Association, September 2009)
"This is a comprehensive reference that provides a lot of relevant information in an easily portable, soft-covered book. The presentations and outlines of the chapters make it quick and easy to locate a specific topic. Numerous tables provide quick guides to assessment and diseases processes.... a great addition to your library. It provides easy access to many different syndromes with a quick flip of the page." (Exotic DVM Magazine)
What's New


Concise and practical guide suitable for all veterinarians involved in treating goats.

Combines practical advice on common procedures with the latest knowledge on best practice in disease management and control.

Covers all aspects of goat medicine including assessment, diagnosis, treatment and control of diseases.

Includes expanded coverage of surgical techniques and anaesthesia.

Contains new chapters on areas of increased interest including the Geriatric Goat; Inadequate Growth Rate; Biosecurity and Herd Health.

Now contains a section of colour photographs to assist diagnosis.