Diseases of the Liver and Biliary System in Children, 2nd Edition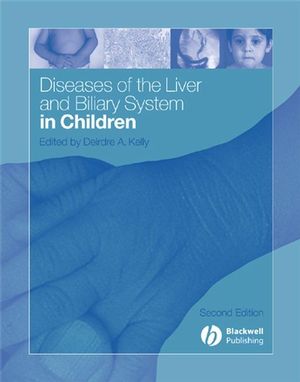 Diseases of the Liver and Biliary System in Children, 2nd Edition
ISBN: 978-1-405-14027-0 April 2008 Wiley-Blackwell 512 Pages
Description
An extremely practical text, this new edition of Diseases of the Liver and Biliary System in Children covers the essentials of paediatric hepatology. The range of material is wide and has been revised and updated to include the latest advances. Many helpful algorithms and tables are included and the references at the end of each chapter have been carefully selected so as to provide the most up-to-date information available. A concluding section comprising some 100 carefully annotated plates, completes this text.

Containing the contributions of 23 internationally acclaimed authorities, active both clinically and in research, the book provides an essential guide to the diagnosis and management of paediatric liver diseases, both common and uncommon for all those involved in the care of the child with liver disease. Diseases of the Liver and Biliary System in Children has become THE REFERENCE of choice for the paediatric gastroenterologist, hepatologist and surgeon.
SECTION 1: SUPPORTING THE FAMILY
.
1 Supporting the Child and Family.
SECTION 2: INVESTIGATING THE LIVER.
2 Useful Investigations in the Assessment of Liver Disease.
3 Interventional Radiology and Invasive Diagnostic Imaging.
SECTION 3: NEONATAL LIVER DISEASE.
4 The Jaundiced Baby.
5 The Acutely Ill Baby.
SECTION 4: ACUTE LIVER DISEASE.
6 Acute Hepatitis.
7 Fulminant Hepatitis and Acute Liver Failure.
SECTION 5: LIVER DISEASE IN OLDER CHILDREN.
8 Chronic Hepatitis.
9 Congenital and Structural Abnormalities of the Liver.
10 Non-alcoholic Steatosis.
11 Hepatobiliary Disease in Cystic Fibrosis.
SECTION 6: METABOLIC LIVER DISEASE.
12 Metabolic Liver Disease in the Infant and Older Child.
13 Diseases of Copper Metabolism.
SECTION 7: MANAGEMENT OF CHRONIC LIVER DISEASE.
14 Complications and Management of Chronic Liver Disease.
SECTION 8: THE LIVER AND OTHER ORGANS.
15 The Liver in Systemic Illness.
16 Skin Disorders in Liver Disease.
17 Dental Care of Children with Liver Disease.
SECTION 9: SURGICAL MANAGEMENT OF LIVER DISEASE.
18 Surgical Disoders of the Liver and Bile Ducts and Portal Hypertension.
19 Primary Hepatic Tumours.
SECTION 10: TRANSPLANTATION.
20 Liver Transplantation.
21 Small Bowel Transplantation in Children.
SECTION 11: LIVER DISEASE IN THE DEVELOPING WORLD.
22 Liver Disease in the Developing World
* introduces, in depth, the clinical investigations of choice for confirming a diagnosis and then surveys the major diseases of the liver in childhood * each disease chapter includes a summary of how investigations should best be used in diagnosis, i.e. when and how to use them, how to interpret them * includes clear algorithms indicating differential diagnosis and treatment options * provides detailed advice on how to treat disease