Diseasing of America: How We Allowed Recovery Zealots and the Treatment Industry to Convince Us We Are Out of Control, 1999 Reissued Paper Edition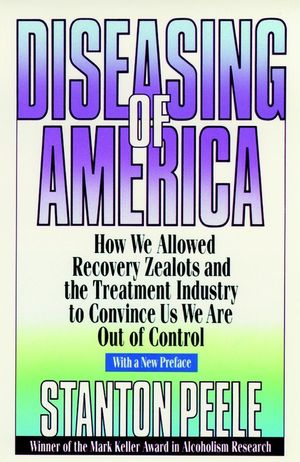 Diseasing of America: How We Allowed Recovery Zealots and the Treatment Industry to Convince Us We Are Out of Control, 1999 Reissued Paper Edition
ISBN: 978-0-787-94643-2 January 1999 Jossey-Bass 336 Pages
Description
A Controversial Argument Against the Disease Theory of Addiction Diseasing of America is a powerful and controversial rebuttal to the "addiction as disease model" that many vested interests-including doctors, counselors, psychologists, treatment centers, and twelve-step programs that specialize in addiction treatment-don't want you to read."I found the arguments in Diseasing of America persuasive and carefully documented. While I find current addiction-treatment models helpful, I think it is critical to look at Stanton Peele's work to question our fundamental assumptions and adjust them on the basis of data."-Jennifer P. Schneider, author of Back From Betrayal and Sex, Lies, and Forgiveness, and member of the American Society of Addiction Medicine"A provocative review of the uses and abuses of the disease model in the past three decades. This important book has significantly added to my education and clinical understanding of addiction in my professional practice."-Richard R. Irons, M.D., The Menninger Clinic
Why Addiction Is Not a Disease (And Why We Should Care that It NotBe Treated as Such).

Alcoholism in America (How We Discovered that Alcohol is Addictiveand that So Many People Are Alcoholics).

Who Says what the Truths about Alcoholism Are?

Transforming the Addict onto a Role Model, and the Person into anAddict.

The Addiction Treatment Industry.

What Is Addiction, and How Do People Get It? (Values, Intentions,Self-Restraint, and Environments).

How People Quit Addictions, Usually on Their Own.

Our Confusion over Law, Morality, and Addiction.

How We Lost Control of Our World.

Creating a World Worth Living In (Community, Efficacy, and Values).
"A courageous indictment of the destructive mindset that alldeviant behavior is a disease. Peele offers mindful alternatives tothose suffering from addictions and to professionals seeking tohelp them." (Ellen Langer, professor of psychology, HarvardUniversity)

"I found the arguments in Diseasing of America persuasive andcarefully documented. While I find current addiction-treatmentmodels helpful, I think it is critical to look at Stanton Peele'swork to question our fundamental assumptions and adjust them on thebasis of data." (Jennifer P. Schneider, author of Back FromBetrayal and Sex, Lies, and Forgiveness, and member of the AmericanSociety of Addiction Medicine)

"A provocative review of the uses and abuses of the disease modelin the past three decades. This important book has significantlyadded to my education and clinical understanding of addiction in myprofessional practice." (Richard R. Irons, The MenningerClinic)

"Peele makes it clear that the disease model of addiction is anemperor without clothes. By placing addictive behaviors in thecontext of other problems of living, he emphasizes personalresponsibility for one's habits. The book empowers the reader toview addiction in a new optimistic light." (G. Alan Marlatt,director, Addictive Behaviors Research Center, University ofWashington, and coauthor of Relapse Prevention)