Disinfection in Healthcare, 3rd Edition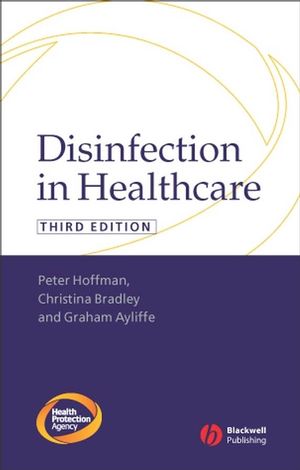 Disinfection in Healthcare, 3rd Edition
ISBN: 978-0-470-69818-1 April 2008 Wiley-Blackwell 128 Pages
Description
Concise, practical guide for everyone involved in the control of hospital infection
Features:
Key information at your fingertips: Concise information is easy to find - now includes references and index
Completely revised, expanded and updated to reflect changes in new chemical disinfectants
Reviews the range of new disinfectants used for endoscope reprocessing
New for this edition:
For the first time, includes thermal disinfection applications of washer-disinfectors and healthcare laundry
Covers new safety regulations
Reviews new European disinfectant tests
Outlines the properties of both established and new disinfectants
Covers the use of disinfectants against the range of healthcare-associated pathogens
Table of contents
Preface.
1. Principles of disinfection.
2. Properties of chemical disinfectants.
3. Disinfection Policy.
4. Thermal Disinfection.
5. Organisms of special significance.
6. Cleaning of disinfection of the environment.
7. Disinfection of the skin and mucous membranes.
8. Disinfection of Medical Equipment.
9. Disinfectants in pathology departments.
10. Safety in chemical disinfection.
Appendix 1 – Summary of Policy for Decontamination of Equipment or Environment.
Appendix 2 - Bibliography
Reviews
"This book remains useful as an introduction to the principles and practices of disinfection and as a basic guidance document for the outreach setting."
Journal of Hospital Infection (2006)
"This book is an essential read for any person involved in disinfection in a healthcare setting or who has an interest in the subject."
British Journal of Biomedical Science (2006)

From the previous editions:
"Those concerned with infection control, either in hospital or in the non-hospital community, should purchase this book tomorrow. If they all followed its advice there would be immediate improvements in the use and knowledge of disinfectants, and more effective policies."
Journal of Hospital Infection
"The book will be of use to students of laboratory medicine, pharmacists, infection control staff and those involved in teaching about hospital disinfection and in drawing up disinfectant policies."
Journal of Medical Microbiology
"This slim volume is easy to read and contains sufficient information to produce a coherent disinfection policy in hospitals. It is required reading for all medical microbiologists, infection control nurses and chairpersons of control of hospital infection committees."
Bulletin of the Royal College of Pathologists
"In summary, this book has useful information on the properties of chemical disinfectants and the principles of disinfection in hospitals."
Infection Control and Hospital Epidemiology