Diversity in the Fundraising Profession: New Directions for Philanthropic Fundraising, Number 34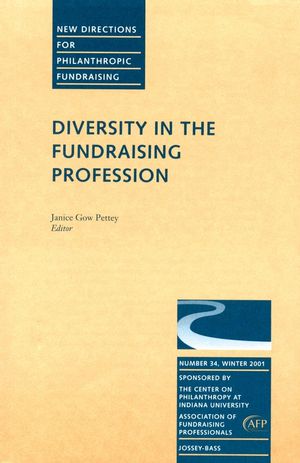 Diversity in the Fundraising Profession: New Directions for Philanthropic Fundraising, Number 34
ISBN: 978-0-787-95833-6
Oct 2002, Jossey-Bass
129 pages
Description
Examining the distinctions of diversity from within the fundraising profession or exploring strategies to enhance diversity in the nonprofit sector, this volume participates in the ongoing discussion on the opportunities and obligations for fundraising practitioners to incorporate culture and tradition in their practice. Chapters examine prospect research, cultivation, and solicitation practice; communication strategies in the workplace; the importance of diversity in philanthropic boards; inclusiveness in the mission and work of nonprofit organizations; and the evolution of current gay and lesbian issues as well as the cultural sensitizing that needs to occur in order to develop successful donor relationships. Acknowledging the challenge for increased quantifiable data on diversity and promoting continued dialogue, this book is a valuable addition to the literature in the fundraising field.

This is the 34th issue of the Jossey-Bass series New Directions for Philanthropic Fundraising</>.
Editor?s Notes (Janice Gow Pettey).
1. Fundraising mores in diverse communities: The role of ethnicity and culture (S. Sanae Tokumura).
Donor research must include the cultural collateral of prospective philanthropists. This chapter uses examples from Hawaii, the first "majority minority" state.
2. Looking at life through rainbow-colored glasses (Kay C. Peck).
Welcoming someone to a new environment involves more than opening the doors. If an organization wants to welcome gays, it must send individuals to interact with the gay community.
3. Using a communication perspective to manage diversity in the development office (William F. Bartolini).
A communication perspective can be helpful in understanding ourselves and others, and in developing an organizational culture that welcomes diversity.
4. Beyond representation: Building diverse board leadership teams (Maria Gitin).
Opportunities and challenges involving identification and cultivation of diverse boards are explored.
5. Five reasons for nonprofit organizations to be inclusive (Samuel N. Gough, Jr.).
People support organizations with which they feel a connection. Nonprofit staff and volunteers need to understand the traditions of giving and sharing of the people whose support they seek.
Index.